Collecting Soviet Mission Patches
by Chris Smith

Unlike U.S. space mission insignias, which have been well-documented, researching Soviet mission emblems can be as difficult as acquiring the actual patches. This guide, and the ones to follow, will hopefully shed some light on these elusive emblems as well as other Soviet and Russian memorabilia.

Much of the following is based on my own growing collection, acquired during trips to Star City (Russia) and Eastern Europe, as well as using the few Soviet reference materials printed in English.

First and foremost, one should know that unlike NASA emblems, which have been issued for each mission since Gemini 5, Soviet patches have traditionally been limited to generic insignias: Salyut or MIR patches, CCCP flag and/or seal emblems.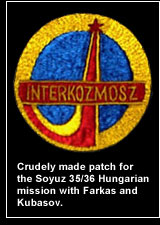 The exception are patches which were created for INTERCOSMOS flights. These missions, which began in the 1970's, allowed U.S.S.R. "friendly" nations to send their citizens for brief visits to Salyut and/or MIR. Among the participant countries were India, Mongolia, Poland, East Germany, France and England.

These "guest" countries provided mission-specific patches. In fact, INTERCOSMOS missions could each have five to seven different insignias: some worn on pressure suits and others on intravehicular suits (the latter resembling jogging suits, worn by the crew while on board the space station).
---
One of the challenges to collecting Soviet spaces patches can be the difficulty of separating the authentic patches from the "souvenir" versions produced for sale in Europe and the United States.

Several immediately noticeable characteristics can be used to distinguish between original and commercially- available patches. Genuine Soviet patches almost never have any kind of backing or coating on the obverse side, and the thread pattern is more sparse (i.e. the thread is not layered nearly as heavily, and the thread does not have the sheen of western-produced patches). In the rare case a backing is present on an authentic patch, it tends to usually be a yellow/white linen fabric.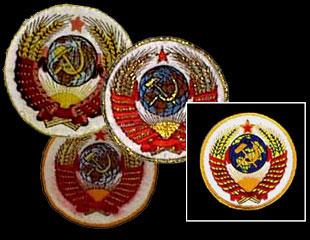 An example of these differences can be seen in the above picture of CCCP seals. The three patches on the left are all genuine, while the inset shows a replica seal patch sold in the US.

Unfortunately, the characteristics used to differentiate between originals and duplicates (as described above) do not always apply. While rarer, I have discovered at least two patches which do not meet the normal requirements, although they are authentic.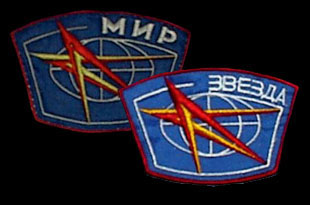 In the photograph of two "MIR" patches, the top version was removed from a flight suit but is made of a slightly padded nylon-type material, while the other, which is also purported to be from Russia, is made of a very thin canvas.
---
Beyond distinguishing between reproductions and originals, there is also the challenge of locating authentic patches. In addition to those flown, only limited patches were distributed to dignitaries as framed sets.

Part of overcoming this challenge is to know exactly what to look for:

The very earliest patch I have encountered is an elongated diamond-shaped patch about four by two inches. Featuring a partial view of the Earth, with latitude and longitude lines, the letters "CCCP" and a stylized rocket lifting off, I have only seen this emblem in a few photos from the early- to mid-60s and have yet to get an original. A version of this emblem can be seen on such diverse items as space station sleeping bags and water-landing survival suits.

The block letter "CCCP" flag was the first pattern patch used by the Soviets, later (partially) replaced by a more stylized patch. The new version is constructed of a nylon-type (shiny) fabric.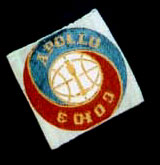 Other patches can be found on TZK anti-exposure suits. These patches are of varying construction, some embroidered or silk-screened on nylon, others of gold and silver wire embroidery on wool. The Apollo/Soyuz patch displayed here (from the backup survival kit for ASTP) is a good example.

In the post-Soviet era, the Russians have more regularly started to wear mission specific patches. Based on the suits on display at Star City and various other references, these patches can clearly be identified as western manufacture as evidenced by the thread pattern and patch backing. A definite NASA influence on design can also be seen.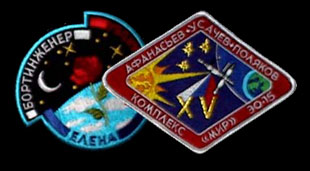 Generic patches are also present: two Russian flag patches with cyrillic "ROSSIYA" replaced the Soviet emblems, although some photos from MIR show CCCP are still in use. A waving Russian flag is also worn as part of the ORLAN EVA suit.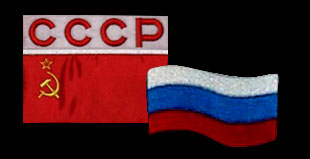 Collecting these patches can be daunting, but also very rewarding. Even the cosmonauts are patch collectors. On display at the Gagarin Museum in Star City is a small panel removed from one of the Salyut stations and features mission patches brought to the station by various visiting crews.