December 27, 2013
– Two spacewalking cosmonauts had to reverse work on Friday (Dec. 27) attempting to advance a Canadian company's plans to offer near-live, continuous high-definition views of Earth from the International Space Station. An issue receiving data from UrtheCast's two HD cameras resulted in their being returned inside the orbiting outpost hours after their installation.
Expedition 38 commander Oleg Kotov and flight engineer Sergey Ryazanskiy opened the hatch to the Pirs docking compartment at 7:00 a.m. CST (1300 GMT), beginning the spacewalk to install the cameras for the Vancouver-based UrtheCast Corporation and to refresh science experiments on the outside of the Russian segment of the station.
The spacewalkers came close to finishing their scheduled tasks before Russian ground controllers ordered they undo the work they had completed mounting the cameras. With the two units back inside the airlock with the cosmonauts, the extravehicular activity (EVA) ended at 3:07 p.m. CST (2107 GMT), eight hours and seven minutes after it began.
The spacewalk marked the longest Russian spacewalk in history, surpassing the previous record of seven hours, 29 minutes set this past August. (The overall longest EVA, at eight hours and 56 minutes, was set by U.S. astronauts in 2001.)
This outing was not related to a
recent pair of spacewalks
conducted by NASA astronauts to remove and replace an ammonia coolant pump, which were completed earlier this week.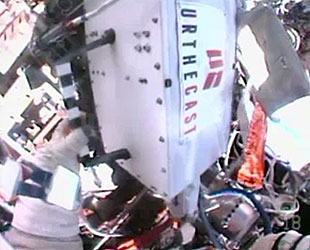 UrtheCast's logo is seen along the company's medium resolution camera as it was briefly installed outside the station. (NASA TV)
Kotov and Ryazanskiy spent the first two and a half hours of their outing configuring the high- and medium-resolution UrtheCast cameras on a biaxial pointing platform that was installed on the Zvezda service module during a previous spacewalk in August.
The spacewalkers mounted the two cameras, which were launched in November on a Russian Progress cargo craft, and ran data and electrical cables for them to the station's patch panels. One cable, leading to the medium resolution camera, presented problems when being routed but it was ultimately connected.
That work for was for naught though, as the medium-, and then high-resolution cameras failed to return the expected telemetry signals. Ground controllers instructed Kotov and Ryazanskiy to uninstall the cameras and bring them back inside the space station for analysis.
According to
UrtheCast's website
, its cameras were meant to "stream unprecedented footage" of the Earth to anyone with an internet connection. "In near real time, you will be able to visit your favorite locales," the company wrote.
In addition to needing to correct for Friday's data issues, if possible, UrtheCast also still needs to be allocated use of the space station's bandwidth, which NASA said was still being negotiated.
"We're working some deals with [the Russians] about how much bandwidth they want to get from us," NASA station program manager Mike Suffredini told collectSPACE Dec. 18. "That's something they have to barter for because that is an asset that we use."
"They have been talking to us about it and we have been working back and forth with them to decide," he explained. "We've got some things that we want that they are willing to trade, so it is just getting it done. It is not a contentious issue."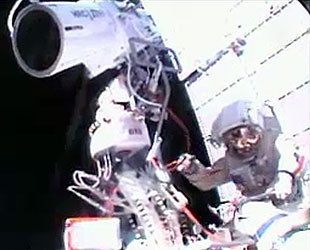 UrtheCast's high resolution camera is seen temporarily installed on its platform after its lens cap was removed. (NASA TV)
UrtheCast's chief executive Scott Larson earlier stated in media interviews that the company had planned to begin offering sample still photos from its medium resolution five meter camera by next spring. Later, Urthecast planned to offer free internet streaming of video imagery, delivering a continuous
view of the Earth from the space station
.
Commercial images using UrtheCast's high-resolution one meter camera was to follow after a commissioning period expected to take a few months.
When, or if, the company will be able to move forward with its plans is still to be seen, pending analysis of the issues with its cameras on Friday.
After installing the two cameras and before being ordered to reverse their work, Kotov and Ryazanskiy turned their attention to refreshing experiments on the space station's exterior. The spacewalkers jettisoned the Vsplesk science package but had to stop work before doing the same for a no longer needed experiment support frame.
Since 2008, the Vsplesk experiment was used to monitor seismic effects using high-energy particle streams. Kotov and Ryazanskiy replaced it with the equipment for a new earthquake-monitoring experiment, called Seismoprognoz, which they attached to a handrail on the service module.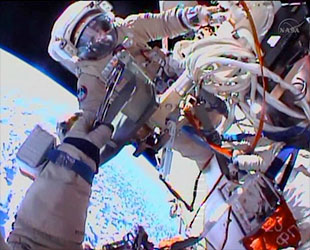 Sergey Ryazanskiy is seen from Oleg Kotov's helmet cam during their spacewalk outside the station on Dec. 27, 2013. (NASA TV)
Kotov and Ryazanskiy were also scheduled to dispose of a frame that once held devices for a Japanese exposure study and then served as an attachment for two unrelated experiments. The cosmonauts were redirected back to the UrtheCast cameras before jettisoning the spent frame and installing a new payload boom in its place.
Kotov and Ryazanskiy also forewent retrieving a cassette from a materials exposure experiment on the Pirs docking compartment before returning inside.
Friday's excursion marked the 177th spacewalk in support of International Space Station assembly and maintenance and the 11th for 2013. It was Kotov's fifth spacewalk and Ryazanskiy's second.
The EVA was the cosmonauts' second time spacewalking together, having exited the station Nov. 9
carrying an unlit Olympic torch
for the 2014 Winter Games in Sochi.