Full Coverage: Aurora's auctions arrive
Article index:
---

Aurora Galleries: Risers revoked

February 5, 2002 — Soon after previewing the first of Aurora Galleries' lots (see earlier update), collectSPACE readers Ken Havekotte and Robert Glass identified the two signed covers as likely forgeries.

Known as Risers, after their creator Charles Riser, the covers are typically identified by the cachet or the type of postal stationery used. For example, Riser was the only one known to use embossed stamped envelopes.

Aurora's Michael Orenstein was contacted and withdrew both covers from the auction. Orenstein cited the source of the suspect covers as "a major exhibition collection of astrophilatelie."


---

Aurora previews lots from first auction

February 4, 2002 — Michael Orenstein, consultant to Aurora Galleries International, shared with collectSPACE the first of what may be a series of previews for their upcoming inaugural space memorabilia auction, currently scheduled for April 27-28, 2002 (images and descriptions courtesy Aurora Galleries):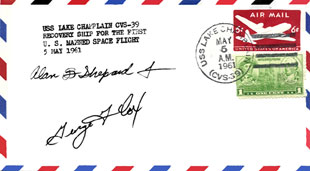 Alan Shepard Autograph on a U.S.S. Lake Champlain (Prime) Recovery Ship Cover with a ship hand cancel. The cover is also signed by George F. Cox (Ship's Captain ?). Pristine condition and one of the rarest covers in astrophilatelie. Probably virtually unique in this condition.


ECV $3,500-5,000

(2004 Editor's note: Cox was not a captain as suggested by Aurora Galleries in their lot description above, but rather the co-pilot of the Marine helicopter that rescued Shepard after his historic Mercury 3 suborbital flight.)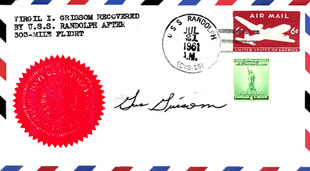 Gus Grissom Autograph on a U.S.S. Randolph (Prime) Recovery Ship Cover with a ship hand cancel and a red embossed Navy Department seal cachet. Pristine and rare.


ECV $1,500-2,500
---

Aurora Galleries: a new light on the horizon

December 19, 2001 — Victoria Campbell walked into Michael Orenstein's office at Superior Galleries ten years ago with an offer too good to refuse.

Campbell, an entrepreneur whose company assisted clients — including several astronauts — to expand and grow their businesses, presented Orenstein with several flown philatelic covers to auction. The consignment, a success by all accounts, began a business relationship that progressed to a friendship and eventually a strategic alliance.

"The astronauts I work with suggested I start my own company that would sell their memorabilia," reflected Campbell in a recent interview with collectSPACE.

The result was Aurora Galleries International, an auction and direct sales firm specializing in aviation and space exploration artifacts.

A familiar partner

Campbell's first order of business was to find the talent to help her organize and run Aurora's auctions, the first of which is tentatively scheduled for April 27-28, 2002.

As circumstance would have it, a highly experienced and knowledgeable individual had just become available: Michael Orenstein.

As Orenstein describes it, Superior Galleries' decision to curtail their space memorabilia department was largely due to the announcement that he was retiring as the company's Vice President.

After a well-deserved break, including an extended fishing trip, Orenstein joined Campbell at Aurora as a consultant.

Same, but different

"Change is always unsettling," explained Orenstein. "But in the case of Aurora, nobody needs to be concerned of radical changes. We are looking to build from the existing marketplace."

That said, Campbell stressed that Aurora Galleries will not just be Superior's space memorabilia division reborn.

"Each company is different, reflecting the people involved. I don't want to compare Aurora to Superior, but as we both implement a traditional auction format, we will have our similarities."

Where consignors and bidders may notice a difference will be Aurora's attention to important details.

"We are seeking to load Aurora's auctions with more middle- to high-end lots, such as more flown artifacts." said Orenstein. "We will also focus on carefully researching the items."

In addition, Campbell says that Aurora will be deploying new programs to answer some of the typical problems associated with consignments in this market.

"With regards to recognizing and removing forgeries from the auction," hinted Campbell "we have a plan in place which we believe will be greatly welcomed by the collecting community."

A colorful and bright horizon

Plans for Aurora's first auction are proceeding smoothly.

"The response from consignors has been growing," told Orenstein. "We already have quite a few very notable artifacts."

One such item, a miniature Mercury spacesuit built by B.F. Goodrich with NASA's blessing, includes a ventriloquist's dummy and a good deal of supporting documentation.

"It has a very strong human interest appeal," described Orenstein.

Consignments will be accepted through the end of January, when work on the catalog will begin.

"We now have a web presence — auroragalleriesonline.com — where qualified collectors can request a free auction catalog," said Campbell.

To qualify, collectors provide proof of purchasing space or aviation memorabilia totaling over $1000.00 in value. Those who do not meet this requirement will soon be able to purchase a catalog for $25.00.

Besides the catalog, Campbell is already planning several surprises, including possible astronaut appearances and a special gift for those who attend the sale in-person.

"Aurora's guiding principles are to do things with quality, class and style, and to focus on customer service" concluded Campbell. "Our ultimate goal is to sustain and expand the space memorabilia marketplace."
back to News



© 2021 collectSPACE.com All rights reserved.
Questions? E-mail contact@collectspace.com