Dec. 15, 2015
— Britain's first "official" astronaut launched to the International Space Station Tuesday morning (Dec. 15), joining veteran Russian and American crew members for a six-month mission.

Tim Peake, the UK's first representative in the European Space Agency's (ESA) astronaut corps, lifted off with Yuri Malenchenko of Roscosmos and Tim Kopra of NASA on the Soyuz TMA-19M spacecraft atop a Soyuz-FG rocket at 5:03 a.m. CST (1103 GMT; 5:03 p.m. local) from Russia's Baikonur Cosmodrome in Kazakhstan.

The three crewmates are scheduled to dock at the orbiting outpost's Rassvet module at 11:24 a.m. CST (1724 GMT) after circling the Earth four times. Their rendezvous at the station coincides with the 50th anniversary of the very first meeting of two crewed vehicles in space, NASA's Gemini 6 and Gemini 7 capsules, in 1965.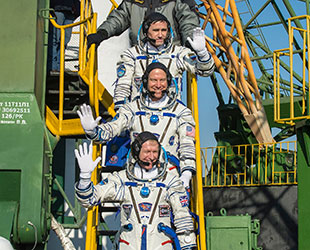 The Soyuz TMA-19M crew of Tim Peake of ESA, NASA's Tim Kopra and Yuri Malenchenko with Roscosmos wave before boarding their spacecraft at the Baikonur Cosmodrome.
(NASA/Joel Kowsky)
Malenchenko, Kopra and Peake will become members of the station's Expedition 46 crew led by commander Scott Kelly of NASA, with flight engineers Mikhail Kornienko and Sergei Volkov. Kelly and Kornienko are wrapping up their almost year-long mission collecting medical data for future astronauts' missions to Mars.

Malenchenko, Kopra and Peake are scheduled to stay on the space station through early June 2016, transitioning to the Expedition 47 crew in March.

First, but not first

A former test pilot in the British Army Air Corps, Peake, 43, was selected as an ESA astronaut in 2009. His is the first Brit to fly to space representing the UK government.

"But I'm not the first Brit in space," Peake said in a briefing previewing his flight. "We had Helen Sharman fly in 1991."

Sharman was chosen out of nearly 13,000 candidates for "Project Juno," a joint initiative between the former Soviet Union and a consortium of British companies. Ultimately though, Russia underwrote the cost of most of Sharman's 8-day mission aboard the Mir space station.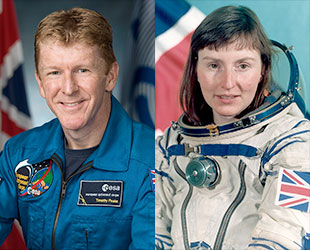 Tim Peake is Britain's first "official" astronaut, but Helen Sharman was the first British citizen in space.
(ESA/Roscosmos)
In addition to Sharman, there have been several fliers who have had dual-citizenship with the UK but flew under the flag of another country, including NASA astronauts Michael Foale, Nick Patrick and Piers Sellers, as well as privately-funded crewmen Mark Shuttleworth and Richard Garriott.

As the first "official" British astronaut, Peake will conduct experiments as part of the "Principia" mission, named after Isaac Newton's text outlining the principal laws of motion and gravity. He also plans to observe Saint George's Day from aboard the station in March and practice other British traditions.

"I have been able to take up my choice of tea," described Peake. "So I'll be having two cups of tea every day, which will definitely remind me of the UK."

Experienced explorers

Malenchenko, as the commander of Soyuz TMA-19M, is on his sixth trip into space. Having spent more than 125 days on Mir in 1994, he previously visited the International Space Station in 2000 on a 12-day space shuttle mission and then commanded the orbiting outpost three times in 2003, 2008 and 2012.

Malenchenko will lead the space station's crew again for Expedition 47. By the end of this flight, he will have logged more than 800 days in space.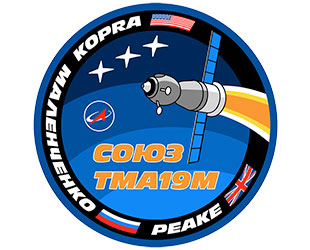 The Soyuz TMA-19M crew patch.
(Roscosmos)
Kopra previously spent 58 days on board the space station as an Expedition 20 flight engineer in 2009. He was set to fly again as a member of the final crew of the space shuttle Discovery in 2011 but broke his hip in a bicycling accident just over a month before launch and was replaced.

"There is probably not a bigger disappointment, especially for an astronaut, to lose a flight so close to launch," Kopra said. "But having some time separated between that event and this flight, I think I have gained an appreciation for the kind of job that we have."

"Not to say that I took my job for granted before, but I am definitely, probably more grateful for this flight opportunity as a consequence," he said.

TMA-19M is Russia's 45th Soyuz to fly to the International Space Station and the 128th to launch since the first flight of the spacecraft in 1967.