Oct. 26, 2015
— Can you name that tune — from space?

Astronaut Tim Peake will challenge his Twitter followers to do just that during his upcoming stay on the International Space Station.

A few times each week while he is in orbit, Peake plans to tweet lines from the lyrics of his favorite songs. The first person to reply to each tweet with the song's correct title and artist will win a special patch flown in space.

"I'm taking with me 75 of possibly the coolest patches ever flown in space, and one of them could be yours," Peake said in a statement announcing the #spacerocks contest.

Peake, who is the European Space Agency's (ESA) first astronaut to represent the UK government, is scheduled to launch to the space station with Russian cosmonaut Yuri Malenchenko and NASA astronaut Tim Kopra on board the Soyuz TMA-19M spacecraft on Dec. 15. The three will be together for five months as members of the Expedition 46 and 47 crews.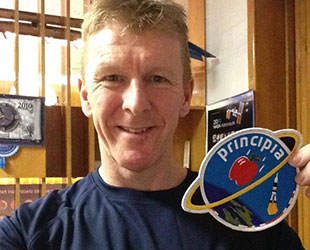 Astronaut Tim Peake holds his Principia patch that represents his ESA mission aboard the space station.
(ESA)
As an ESA flight engineer, Peake will spend a good part of his time focusing on the experiments that will comprise his "Principia" mission, named after physicist Isaac Newton's text on the principal laws of motion and gravity.

The #spacerocks competition is part of Peake's and ESA's outreach efforts to engage the public in his mission on the space station.

Peake, who says his personal taste in music is "frankly, sometimes weird," has selected 75 of his favorite songs to keep him happy and motivated while working out, taking photos, watching the Earth, reading or relaxing in what little spare time he has while on orbit.

"I hear you were taking some Queen music with you, so I hope that will keep you good company," said Brian May, an astrophysicist and the lead guitarist from the rock band Queen, in a video message sent to Peake. "We will all be following you on Twitter and have a fantastic trip."

To compete in the #spacerocks contest, Twitter users only need to follow Tim Peake at @astro_timpeake, as well as @esaoperations for notifications if the won.

Participation is open to Twitter users worldwide, regardless of nationality. Only replies with correctly-spelled, full song titles and artist's names will be eligible, according to ESA's contest rules.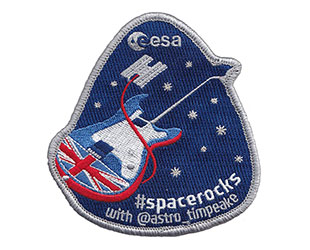 The exclusive #spacerocks patch was designed by Italian artist R. Sandri and produced by Lucreation for ESA.
(ESA)
The exclusive #spacerocks patch that winners will receive was produced for ESA by Lucreation in the Netherlands. The embroidered badge depicts an electric guitar, bearing the Union flag, with its lead originating from the station.

The ten stars on the emblem are in groups of four and six, representing Peake's role on the Expedtion 46 crew. The patch also bears ESA's logo and the hashtag #spacerocks with Peake's Twitter handle.

To get ready for the contest, ESA has shared a sample of Peake's Principia playlist on the agency's Spotify channel (it is not cheating, says ESA, because most of the tracks posted are not included in #spacerocks).

For more information, including the complete rules, see the European Space Agency's Principia mission website.