January 19, 2011
— Astronaut Tim Kopra, who last week sustained injuries during a bike accident, was replaced on the crew of space shuttle Discovery Wednesday, just over a month before his scheduled launch. NASA has selected Steven Bowen, who was a member of the previous shuttle mission's crew, to take Kopra's place as lead spacewalker on the STS-133 mission.

"We have complete confidence [Bowen will] contribute to a fully successful STS-133 mission," said chief astronaut Peggy Whitson in a statement. "He has performed five prior spacewalks. That extensive experience, coupled with some adjustments to the spread of duties among the crew will allow for all mission objectives to be accomplished as originally planned in the current launch window."

NASA is still targeting Feb. 24 for Discovery to lift off on its last flight, an 11-day mission to the International Space Station (ISS). Bowen, with his five crewmates, will install a permanent logistics module and deliver a first-of-its-kind humanoid robot, Robonaut 2 (R2), to assist the station's resident crew.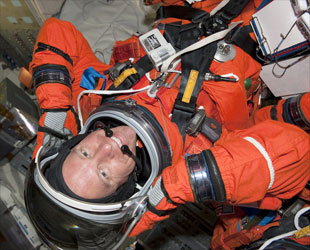 Tim Kopra strapped aboard space shuttle Discovery during an STS-133 mission dress rehearsal in October 2010.
(NASA)
Kopra — along with commander Steven Lindsey, pilot Eric Boe, and mission specialists Alvin Drew, Michael Barrett, and Nicole Stott — had been in training for this flight since September 2009. The mission was originally scheduled to liftoff in November of last year, but was postponed after a hydrogen leak scrubbed the first launch attempt.

STS-133's start was further delayed after cracked support beams were found in Discovery's fuel tank. Modifications to those beams, called stringers, are still underway in an effort to strengthen the tank for its February launch.

"If, for some unanticipated reason, STS-133 slips [again] significantly, it is possible that Tim could rejoin the crew," said Whitson.

Crew changes

Citing concerns for his medical privacy, NASA refused to elaborate on the nature of Kopra's injuries. Sources close to his family however, have said he broke his hip.

Kopra, who previously spent just under two months on the International Space Station during Expedition 20 in 2009, isn't the first astronaut to be injured during training, nor the first to be replaced on a crew for medical reasons.

"We've replaced crew members on [shuttle flights] eight previous times, so it's happened frequently, but this is the closest in shuttle history to the launch date," said Whitson during a media briefing.

Gus Loria, for example, was three months from flying as pilot for Endeavour's STS-113 mission when he injured his back. NASA assigned Paul Lockhart to fly in place.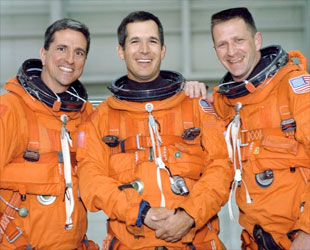 Don Thomas (left) and Gus Loria (right) were both injured during training and faced being replaced on their crews.
(NASA)
Carlos Noriega and Karen Nyberg were both removed from flights — STS-121 and STS-132 respectively — for what NASA only described as temporary medical issues.

Not all injuries have ended with crew members losing their chance to fly.

In February 1997, NASA announced that Don Thomas had broken his ankle while exercising. Less than four months from his scheduled launch, the space agency assigned a backup, Catherine "Cady" Coleman, to train to replace him should he not heal in time. Thomas however, did heal and went on to fly the STS-83 mission as scheduled.

Like Thomas, Kopra is planning to support his crewmates' training such that if the situation arises, he will be ready to rejoin them. Even if not, says Whitson, Kopra intends to remain part of the team.

"He will at least be serving as a 'right seat' capcom during the mission," Whitson told collectSPACE.

Frequent flyer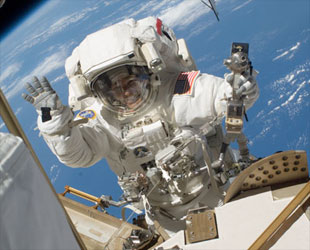 Steven Bowen spacewalking outside of the International Space Station during his previous STS-132 mission in 2010.
(NASA)
Should Kopra remain off the crew as expected, Bowen will become the first American astronaut to fly back-to-back missions.

Bowen's most recent space flight, STS-132 aboard shuttle Atlantis, immediately preceded STS-133 in May 2010. He also flew with shuttle Endeavour's STS-126 crew — which included STS-133 pilot Eric Boe — in November 2008.

Bowen's experience as a spacewalker led to his selection to replace Kopra on Discovery's crew. Together with Alvin Drew, he'll perform the two spacewalks that Kopra was to lead.

Kopra was also trained to be the mission's flight engineer, supporting commander Steven Lindsey and pilot Eric Boe during launch and entry. Although Bowen earlier served in that same role for the STS-126 mission, NASA decided to divide that responsibility between Drew and Nicole Stott.