Dec. 12, 2013
— The planned launch of a private cargo spacecraft to the International Space Station may need to be delayed if a problem with the orbiting outpost's cooling system is not first resolved, NASA officials said Thursday (Dec. 12).
On Wednesday, the pump module for one of the station's external cooling loops
automatically shut down
as a result of detecting temperatures lower than its pre-set limits. The loops circulate ammonia outside the station to regulate the temperature of both internal and external equipment.
Although the station's six-member crew and the complex itself were never in any danger, some non-critical systems needed to be powered down in the U.S. Harmony node, as well as the connecting European Columbus and Japanese Kibo laboratories.
"The crew is in good shape, [so] no issues there," Kenny Todd, chair of NASA's space station mission management team, said on Thursday. "They are continuing to go about their day-to-day activities [and] where we can, we're giving them good science. All the science that we have collected up to this point is not at risk."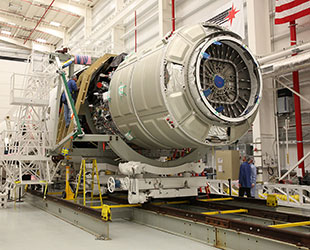 Orbital Sciences' Cygnus cargo spacecraft is seen being mated to its Antares rocket for launch to the International Space Station, scheduled for Wednesday, Dec. 18. Its flight may now be delayed due to an issue with the space station's cooling system. (Orbital)
With some redundant systems offline however, the space station is not currently in a good configuration to receive a visiting vehicle.
Orbital Sciences Corporation of Virginia had been readying its
Cygnus unmanned spacecraft
for a launch to the space station as early as Wednesday (Dec. 18) on the first of the company's eight contracted missions to deliver equipment and supplies for the station's crew. That flight may still go forward as scheduled but NASA's managers delayed their "go/no go" decision until Monday.
"At this point, I have deferred the go/no go [decision] for that particular launch until we get a little more information on this particular issue," Todd said. "Our primary focus at this point is trying to recover this loop [to] get back into a better configuration to support this launch."
Although still targeted for a liftoff Wednesday, the launch window for the Orb-1 mission extends several more days.
"We could go all the way to the 21st, possibly the 22nd," Todd said. "We've got three or four days in the window."
Orbital Sciences, reacting to the news Thursday, said that its spacecraft and rocket teams at NASA's Wallops Flight Facility in Virginia were "marching toward Dec. 18" for the launch until being told by NASA to do otherwise.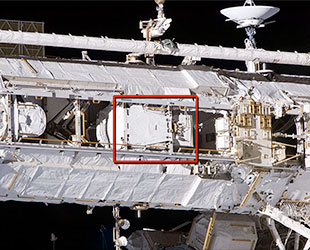 NASA image identifying the malfunctioning pump module on the outside of the International Space Station. (NASA)
Ground controllers suspect that the coolant loop's problem lies with a flow control valve inside the pump module. The valve helps regulate the temperature of the ammonia that flows through the loop.
"We'll be doing further work to further understand what is going wrong with the Loop A flow control valve," capcom Josh Matthew told the station's crew from Mission Control in Houston. "We have got a plan to command the valve to various positions to see how it affects the temperature."
Todd said that if that and other troubleshooting plans don't work, then a spacewalk may be required.
"If, in the near-term discussion, it doesn't look like there is anything that is on the horizon, then we will look at other options that may have to be considered, including removal and replacement of that particular valve, which is housed in an external pump module mounted to
the space station
, so that will lead us into a series of discussions regarding spacewalks," Todd explained.
But with ground controllers still in a "data-gathering mode," any talk of a spacewalk – or prolonged delay to the Orbital launch – may be premature.
"At this point, for lack of a better term, we're going to 'kick the can' for a little bit and go let the team work a bit more," Todd said.