Space Voyagers: the next generation

December 4, 2000 — Action Products announced today the next generation of their Space Voyagers-brand action figures: a series of 5" tall, hyper-realistic astronaut action figures with extreme poseability, designed specifically for specialty retailers.

Sculpted by Raven Hood, each figure features 15 point articulation and faithfully reproduces the spacesuits and gear used by NASA astronauts.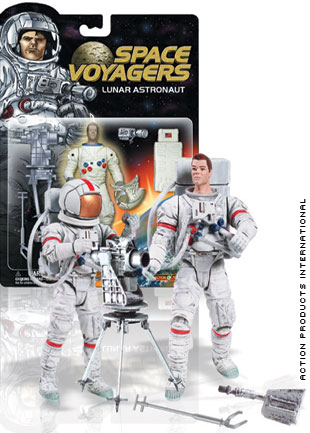 The first in the new series is the "Apollo Lunar Explorer," which donns the spacesuit worn on the final three Apollo moon missions. The set includes a removable helmet, a backpack with three dimensional unpluggable hoses, a Hasselblad camera, sampling claw, soil scoop and rock.

A bonus accessory, a scale model of the Ultraviolet Observatory camera on its tripod stands nearly as tall as the figure at 4 inches.

Space Voyagers action figures are marketed as the first collector quality, highly-articulated action figure designed specifically for the specialty toy and museum markets, providing an educational alternative to violent or fantasy play systems.
back to News



© 2023 collectSPACE.com All rights reserved.
Questions? E-mail contact@collectspace.com