November 24, 2014
— Fifty years after the launch of the first successful mission to Mars, nearly 90,000 messages celebrating the anniversary and the future of human Mars exploration will be beamed to the Red Planet.

The radio transmission, which is the conclusion of a three-month campaign by the space research funding company Uwingu, will take place on Friday (Nov. 28), a half-century after NASA's Mariner 4 spacecraft lifted off to fly by Mars. The 1964 robotic mission transmitted the first photographs of the Martian surface.

Uwingu's broadcast to Mars, using high-power commercial transmitters in Hawaii, Alaska and Australia, is scheduled to begin just after 3 p.m. EST (2000 GMT) on Friday, and will be repeated twice. Whereas it took the Mariner probe eight months to fly to Mars, Uwingu's "Beam Me To Mars" messages will span the same distance in just 15 minutes, 'traveling' at a rate of 1 million bits per second.

The transmission will be the first time that messages from people on Earth have been transmitted to Mars by radio.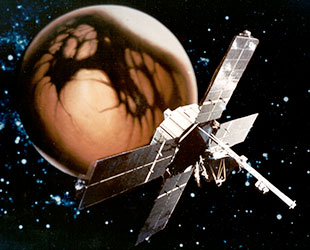 This image of Mariner 4 superimposed on an image of Mars was used to promote the 1964-65 mission.
(NASA via Roger Launius)
"This is to help commemorate the early Mariner missions to Mars to learn about that planet and [to] satisfy much curiosity and many questions on its makeup and possible life," Mike Helton, a NASA Mariner probe team member, wrote in his message being beamed to Mars.

Helton was joined in penning messages to Mars by other missions' scientists and flight controllers, including Peter Smith, the principal investigator for NASA's 2008 Phoenix lander, Bobak Ferdowsi, an engineer on the Mars Curiosity rover who gained attention for his mohawk during the 2012 landing and Steven Squyres, the lead scientist for NASA's twin Mars Exploration Rovers.

"I was part of a team that sent two rovers called Spirit and Opportunity to study you," Squyres wrote in his message. "Spirit lasted six years, and Opportunity is still going after more than ten years. I appreciate it."

Most of the messages were written by public fans of Mars exploration, who paid between $5 and $100 to send their names, notes and photos to Mars. Some 88,798 names and messages were submitted to Uwingu, according to its Beam Me To Mars website.

Included in that count were a number of celebrities. Actors Seth Green and Clare Grant, Pulitzer-prize winning author and playwright Dava Sobel, Bill Nye "The Science Guy," and Star Trek's "Mr. Sulu," George Takei wrote messages being beamed on Friday.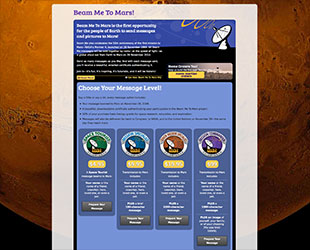 Uwingu's "Beam Me to Mars" website offered the chance to send a message to the Red Planet for as little as $4.95.
(Uwingu)
"The Enterprise was a vessel of peace, celebrating the diversity of our own species, as well as that of other life forms in the galaxy. Ours was a message of peace. We still carry that message as we set forth on another leg of our journey to the stars. And if there are others out there listening, as we often said onboard the Enterprise, 'May you live long and prosper,'" Takei wrote.

As the broadcast leaves Earth, the radio beam will spread out to encompass all of Mars.

"Though there's no one on Mars to receive the messages, they will be heard loud and clear on Earth," Uwingu's chief executive officer Alan Stern, a former NASA science chief who also heads the space agency's New Horizons mission to Pluto, said. "All of the messages will be hand-delivered to Congress, to NASA, and to the United Nations."

Half of the "Beam Me To Mars" proceeds are going toward The Uwingu Fund, which underwrites space research and education grants. The remainder will cover the cost of the transmission, as well as the other expenses related to this and Uwingu's other ongoing campaigns.

Included with the messages being beamed to Mars are the logos of more than 25 corporations and organizations that supported the project, including collectSPACE.

For more information or to read the messages be beamed to Mars on Nov. 28, 2014, see Uwingu's website.