March 5, 2014
— A private mapping project to name all of the craters on Mars has blasted off in a big way while also booking a trip to the Red Planet.

Just a week after launching its crowdsourced Mars Crater Map, the space funding company Uwingu has raised more than $80,000 registering the public's names for over 6,000 of the Martian landmarks.

"This is way ahead of our pre-launch projections and we're just ecstatic," Uwingu's CEO Alan Stern, a former NASA science chief who also heads the agency's New Horizons mission to Pluto, said. "Still, we have a long way to go to complete the 500,000+ unnamed craters."

According to Stern, the crater names have been registered by people in 57 nations on six continents. Uwingu (which name means "sky" in Swahili) charges just $5 to name the smallest of the Red Planet's craters, with prices going up as crater size increases.

The company is using the money to fund grants for space exploration, research and education. If all of Mars' craters are named, the total raised could top $10 million, although the $80,000 is already a record for Uwingu.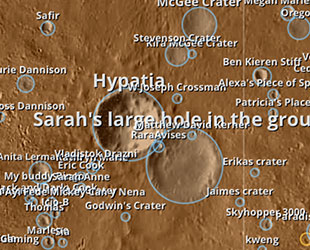 A section of Uwingu's Mars map shows the names that the public has submitted for some of the planet's 500,000 craters.
(Uwingu)
"That's more than our Indiegogo [crowd-funding] campaign raised in 10 weeks," Stern told collectSPACE, referencing the company's initial 2012 fundraising effort that brought in $79,896 to establish its public engagement projects.

Now some of the funds Uwingu raises will go toward a ride for the company's Mars Crater Map to the Red Planet.

Unofficial, but not unused

The Mars map that Uwingu is creating is unofficial; though it includes the names earlier assigned by the International Astronomical Union (IAU), which authorizes official names for celestial bodies and their features, the company is not seeking the IAU to adopt the names it registers.

Nor, apparently, is that even an option.

"Not a single Mars crater named as a result of the recently launched Uwingu campaign will be sanctioned by the IAU" IAU general secretary Thierry Montmerle told Space News on Feb. 27.

But unofficial names are already in use on Mars. The IAU, for example, has officially named the 18,000 foot (5.5 km) peak at the center of Gale Crater as "Aeolis Mons." NASA however, more often refers to the same feature as "Mount Sharp" when describing its Curiosity Mars rover's target.

The space agency unofficially named the peak for the late geologist Robert Sharp in 2012.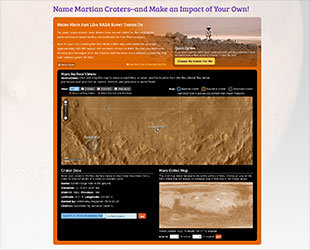 Uwingu's "Name Craters on Mars" website lets the public choose the craters they want to name across the Red Planet.
(Uwingu)
Uwingu intends its project to be a "people's map of Mars," providing a cultural snapshot of what people are thinking about and what may be important to them at this moment in time.

But thanks to a new partnership, it may also eventually be the map future private crewed missions use on Mars.

Mars-bound map

Announced Monday (March 3), Uwingu has partnered with the Mars One project, which aims to land four astronauts on the Red Planet in a one-way mission in 2025.

As a precursor, Mars One plans to launch a robotic lander and orbiter toward the Red Planet in 2018 to demonstrate some of the technologies required for its human missions. Further unmanned missions are slated for 2020 and 2022 to help prepare for the arrival of people.

Under the agreement, all of Mars One's robotic and human missions will carry Uwingu's Mars Crater Map to the planet and will use the map's publicly-registered landmark names as a part of Mars One mission operations.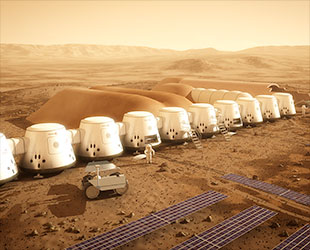 Artist's depiction of Mars One astronauts and their private colony on the Red Planet.
(Mars One/Bryan Versteeg)
In exchange, a portion of the revenues raised by the Mars Crater Map will help fund Mars One missions.

"This partnership catapults Uwingu's Mars crater naming database and maps into the forefront of Mars exploration," Stern said. "Every person who names craters on Mars will now know that their crater names are to be used in the exploration and eventual settlement of Mars."

To learn more about the Mars mapping project, and to buy a crater name of your own, go to uwingu.com/mars.