August 19, 2014
— How are you planning to celebrate the 50th anniversary of the first successful mission to Mars? How about sending a "shout out" to the Red Planet?

"Beam Me to Mars," the latest project by Uwingu, a space research funding company, will transmit public messages to Mars on Nov. 28, 2014, 50 years (to the day) after the start of the Mariner 4 mission. The NASA probe made the first flyby of another planet, beaming back the first photos of the Martian surface.

"Come and celebrate the exploration of Mars in this very special, first of a kind 21st century interplanetary social movement!" Uwingu's chief executive officer Alan Stern, a former NASA science chief who also heads the agency's New Horizons mission to Pluto, said.

Between now and November 5, anyone can register their message to be beamed to Mars for as little as $5. "Beam Messages" can be as simple as just your name, or can be more elaborate, including text and even images. There is no limit to how many messages can be sent, either.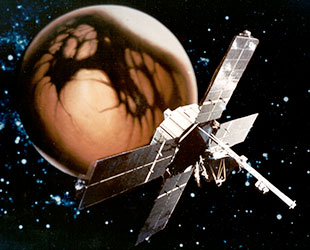 This image of Mariner 4 superimposed on an image of Mars was used to promote the 1964-65 mission.
(NASA via Roger Launius)
It took the Mariner 4 spacecraft almost 8 months to reach Mars in 1964-1965, but the Beam Messages will arrive at the Red Planet just 15 minutes after they are sent. Uwingu has partnered with the satellite communications provider Universal Space Network to send the messages to Mars from ground stations in Alaska, Australia and Hawaii.

As the broadcast leaves Earth, the radio beam will spread out to encompass all of Mars.

"Though there's no one on Mars to receive the messages, they will be heard loud and clear on Earth," Stern said. "All of the messages will be hand-delivered to Congress, to NASA, and to the United Nations."

The database of "Beam Me to Mars" messages will also be open to the public, free to browse and share.

"What will kids and adults say to Mars, about Mars, about space exploration's past and future, about their hopes and dreams?" Stern commented. "We're going to find out with a societal selfie we're beaming to Mars!"

Uwingu has already collected messages from a number of space leaders and personalities, including astronauts and Mars mission project leaders.

"Greetings neighbor planet! Thank you for being so patient with our 50 years of probing; you've taught us a lot," said Canadian space station commander Chris Hadfield as part of his Beam Message.

"I was part of a team that sent two rovers called Spirit and Opportunity to study you," wrote planetary scientist Steve Squyres in his Mars-destined message. "Spirit lasted six years, and Opportunity is still going after more than ten years. I appreciate it."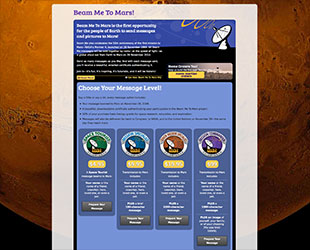 Uwingu's "Beam Me to Mars" website offers the chance to send a message to the Red Planet for as little as $4.95.
(Uwingu)
Mike Helton, who served as a member of NASA's Mariner probe team, also had a message for "Beam Me to Mars."

"This is to help commemorate the early Mariner missions to Mars to learn about that planet and [to] satisfy much curiosity and many questions on its makeup and possible life," Helton wrote in his Beam Message.

With the database now open to the public, Uwingu plans to review all of the messages it receives to remove vulgar or offensive content before it is broadcast to Mars.

Half of the proceeds raised by "Beam Me to Mars" will fuel the grants that Uwingu makes to further space research, education, and exploration. The other half of the funds will go to the company's new projects.

Uwingu's (which means "sky" in Swahili; pronounced "oo-wing-goo") previous projects include a crowdsourced Mars crater map and exoplanet naming database.

For more information or to beam a message to Mars, see the Uwingu website.