November 13, 2017
— A small space plane has repeated history — both its own, and that of an earlier iconic winged spacecraft.

Sierra Nevada Corporation's (SNC) Dream Chaser flew its first fully successful approach and landing test on Saturday (Nov. 11), dropping from altitude below a carrier helicopter to an autonomous touchdown at Edwards Air Force Base in California. The Veteran's Day test flight repeated a feat carried out in 2013, but without the engineering test article suffering damage from a landing gear failure.

"The flight test demonstrated excellent performance of the spacecraft's aerodynamic design and the data shows that we're firmly on the path for safe, reliable orbital flight," said Mark Sirangelo, corporate vice president of SNC's Space Systems division, in a statement.

The test flight advanced the Dream Chaser a step closer toward carrying cargo to and from the International Space Station for NASA beginning as soon as 2020. The space agency's Commercial Resupply Services (CRS) program, which in its second round includes SNC's Dream Chaser, SpaceX's Dragon and Orbital ATK's Cygnus, supplants the cargo capacity that NASA's retired shuttle fleet previously provided the space station.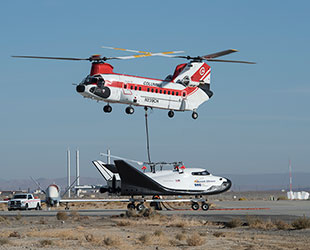 A Columbia 234-UT Chinook helicopter was used to lift the Dream Chaser test article to altitude for the Nov. 11, 2017 test.
(NASA)
In 1977, NASA astronauts flew five free-flight landing tests with the prototype orbiter Enterprise to validate the ability of a spacecraft to return to Earth as a glider. The fifth and final free-flight of Enterprise landed 40 years and 16 days prior to the similar, but uncrewed Dream Chaser test.

While at Edwards Air Force Base, the Dream Chaser used the same historic hangar that housed the Enterprise for its approach and landing flights four decade ago.

"We were able to remember that it was 40 years ago this time a year when the shuttle began its flight testing," said Sirangelo on a call with reporters a day after the flight. This vehicle is very much like Enterprise. It is not going to go to space. It was built and designed to do the flight testing that we needed to do, and now at the end of the flight, it will be brought back and held on to for storage and viewing and for show, as shuttle Enterprise has been."

The Dream Chaser free flight on Saturday was carried out to verify the vehicle's performance during its final phase of flight from a return from the space station. Slated to launch on United Launch Alliance (ULA) Atlas rockets, the Dream Chaser will touch down from the orbiting laboratory at the former Shuttle Landing Facility at NASA's Kennedy Space Center in Florida.

For other applications or missions, the Dream Chaser is capable of landing on any commercial runway greater than 8,000 feet long (2,440 meters). In addition to working with NASA, SNC also has partnerships with the United Nations, European Space Agency (ESA), Canadian Space Agency, Japan Aerospace Exploration Agency.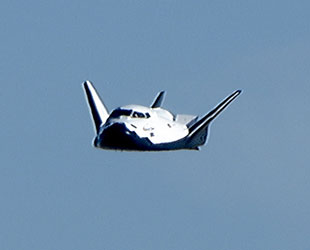 Sierra Nevada's Dream Chaser engineering test article approaches a landing during a free flight test on Nov. 11, 2017.
(Sierra Nevada)
Saturday's test began with a Columbia 234-UT Chinook helicopter hoisting the Dream Chaser test article by a 200-foot (60-meter) lift line over the dry lake bed at Edwards Air Force Base to an altitude of 12,324 feet (3,760 meters). The space plane was then released and, like its first free-flight test four years ago, the Dream Chaser used its on board computers to acquire and align itself to Runway 22L, the same strip used by the shuttle to return from orbit.

The Dream Chaser was released at 9:41 a.m. PST (1741 GMT) and was in free flight for 60 seconds, accelerating to 330 mph (531 kp/h). The craft touched down traveling 191 mph (307 kp/h) and rolled out about 4,200 feet (1,280 m).

Saturday's test also included orbital vehicle avionics and flight software for the first time, helping to further validate the orbital vehicle design.

Just before touching down, the Dream Chaser deployed its main landing gear and a nose-mounted skid to roll out on the concrete runway. According to SNC, the skid efficiently utilizes the volume in the nose, allows for the direct mount of thermal protection tiles onto the skid, and eliminates the need to maintain nose wheel tire pressure during extended orbital operations.

A similar free flight test on Oct. 26, 2013, ended with the vehicle's left-side gear failing to deploy properly, resulting in the Dream Chaser skidding off the runway and suffering significant damage. This time, the landing gear worked as planned and the vehicle rolled out to a safe wheels stop.

"This has been a terrifically long road for us. It was a very positive end to our long road," said Sirangelo on Monday (Nov. 13). "We feel the flight went quite well, the vehicle is in great shape and more importantly, we got all of the data we needed from the flight."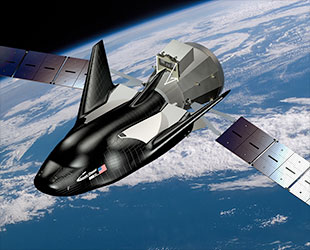 Artist rendering of Sierra Nevada's Dream Chaser space plane with expendable cargo module in Earth orbit.
(Sierra Nevada)
Prior to Saturday's free flight, the Dream Chaser was flown on a captive-carry test on Aug. 30, which put the vehicle through the same lift but without the drop. SNC conducted two similar captive carry flights before the 2013 free flight on May 29, 2012 and Aug. 22, 2013 using an Erickson Air-Crane helo near the Rocky Mountain Metropolitan Airport in Colorado and at Edwards Air Force Base, respectively.

The Dream Chaser is based on the design of NASA's HL-20 "horizontal lander" lifting body, which was developed in the mid-1980s as a potential rescue vehicle for the space station. The HL-20 in turn was based on the Russian BOR-4 unpiloted orbital rocketplane, which also flew in the early 1980s. NASA reverse engineered the BOR-4 design from military reconnaissance photos to form the basis of the HL-20 shape.

The cargo configuration of the Dream Chaser is about 50 feet long (15 meters; 30 feet [9 m] for the space plane, 15 feet [4.5 m] for expendable cargo module and 5 feet [1.5 m] for launch adapter), in comparison to the HL-10, which was 21 feet long (6.5 m) and larger space shuttle orbiter, which was approximately 120 feet (37 m) long.