Jan. 14, 2016
– NASA has announced contracts for three U.S. companies to launch cargo to the International Space Station through the planned end of the orbiting outpost.

"We are announcing the next chapter of the public-private partnership with American companies to ensure that NASA maintains the capability to resupply the space station from the United States through 2024," Ellen Ochoa, the director of NASA's Johnson Space Center in Houston and a former astronaut, said in a press conference Thursday (Jan. 14).

SpaceX and Orbital ATK, which have each been delivering research equipment and crew logistics to the space station since 2012 and 2014 respectively, will continue to fly their Dragon and Cygnus capsules under the new Commercial Resupply Services (CRS)-2 contracts beginning in 2019.

In addition, NASA has selected Sierra Nevada Corporation to introduce its Dream Chaser space plane as a new third provider for the space station.

All three companies will fly a minimum of six cargo delivery flights. The total amount under all contracts awarded is not to exceed $14 billion, and NASA expects it will be far less than that.

The Boeing Company and Lockheed Martin also submitted proposals to NASA for the CRS-2 contract. Boeing, which like SpaceX, holds a NASA contract to fly astronauts to the station beginning in late 2017, was informed in November that its bid to use its CST-100 Starliner capsule to launch cargo was eliminated from the competition for reasons not yet made public.

Cargo incumbents

NASA awarded its first two commercial resupply services contracts in December 2008. The contracts each called for the delivery of a minimum of 20 metric tons to the station.

At the time of the award NASA ordered eight flights valued at approximately $1.9 billion from Orbital ATK (previously Orbital Sciences Corp.) and 12 flights valued at about $1.6 billion from SpaceX. To date, Orbital ATK has successfully flown three missions and SpaceX has flown six.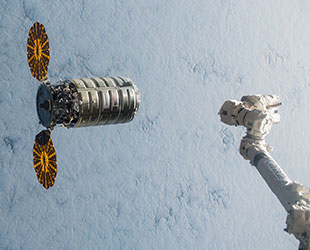 Orbital ATK's Cygnus cargo vehicle approaches being captured by the space station's Canadarm2 robotic arm for berthing.
(NASA)
"To date, our CRS-1 commercial providers have delivered over 35,000 pounds [16,000 kilograms] of research, crew and maintenance hardware to the space station, though it has not been easy," said Sam Scimemi, the director of the space station at NASA Headquarters in Washington, DC.

Both companies suffered launch failures in 2014.

Orbital ATK returned its Cygnus craft to flight in December by launching the spacecraft atop a United Launch Alliance Atlas V rocket from the Cape Canaveral Air Force Station in Florida. The company has scheduled a second Atlas V flight in March before resuming use of its own redesigned Antares rocket from the Mid-Atlantic Regional Spaceport at NASA's Wallops Flight Facility in Virginia.

"This second CRS contract award reinforces Orbital ATK's role as a trusted partner to NASA," said Frank Culbertson, the president of Orbital ATK's Space Systems Group, in a statement. "Our goal for both CRS-1 and CRS-2 remains unchanged, which is to support the needs of the crew [on board the space station] with 100 percent mission success and schedule certainty."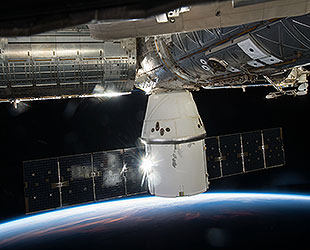 SpaceX's Dragon cargo capsule is seen here berthed to the Earth-facing port of the space station's Harmony module.
(NASA)
SpaceX followed later in December with the return to flight of its own Falcon 9 rocket. Its next flight of a Dragon cargo capsule for NASA is currently under review but is expected to be in the March timeframe.

Both Orbital ATK's and SpaceX's original CRS-1 contracts were modified to add more missions and extend the flights out to late 2019. Before CRS-2 begins, Orbital ATK has at least six more flights and SpaceX has nine.

SpaceX's Dragon is presently the only spacecraft capable of returning cargo to Earth, splashing down off the coast of Baja, California under parachutes. Orbital ATK's Cygnus is intentionally destroyed during re-entry.

Shuttle resurrection

Sierra Nevada's winged Dream Chaser will also be able to bring science and spent equipment back to the ground.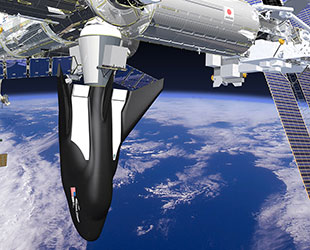 Artist's concept of Sierra Nevada's Dream Chaser space plane and cargo module attached to the space station.
(Sierra Nevada Corp.)
Originally designed to carry astronauts to and from space, the Dream Chaser was first selected in 2012 as a possible commercial crewed vehicle for NASA but was dropped two years later. Sierra Nevada Corp. then modified its design to fly as an unpiloted cargo craft.

The Dream Chaser, which is based on the HL-20, a 1980's NASA concept for a lifting body re-entry vehicle, will lift off with its wings folded up inside a fairing atop a ULA Atlas V rocket from the same pad in Cape Canaveral that Boeing is using for its CST-100 Starliner crewed flights.

Like NASA's retired shuttles, the Dream Chaser returns to Earth as a glider and touches down on a runway, providing a more gentle landing for returning science than splashing down in the ocean.

"Within a few short years, the world will once again see a [U.S.] winged vehicle launch and return from space to a runway landing," stated Mark Sirangelo, the corporate vice president of Sierra Nevada Corp.'s Space Systems. "The Dream Chaser Cargo System offers NASA a safe, reliable and affordable solution for [space station] cargo delivery, return and disposal."

More mission types

NASA applied the knowledge it gained from the first cargo contracts with Orbital ATK and SpaceX to the new awards.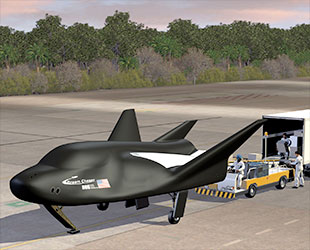 Artist concept of Sierra Nevada's Dream Chaser spaceplane on the runway after a mission to the space station.
(Sierra Nevada Corp.)
For example, the CRS-2 contracts require a minimum of six missions as opposed to delivering a set mass of cargo as defined by metric tons. The companies also must now cover any damage that occurs to government property as a result of launch or re-entry failures, or while transporting cargo to, from, in proximity of or docking with the station.

The selection of the three spacecraft also provides NASA with a variety of different mission types from which it can choose, including delivery of pressurized or unpressurized payloads, return or disposal of cargo from the station and where the vehicles launch from or land.

"We now have more mission types, which allows for more flexibility," Kirk Shireman, NASA's space station manager, said. "We have not issued any task orders yet, but we will begin work with the contract awardees to determine which missions best meet our needs."

Approximately four resupply flights are needed each year to maintain the research and crew on the space station. In addition to the NASA-contracted SpaceX, Orbital ATK and Sierra Nevada flights, Russia and Japan also replenish the orbital laboratory using Progress and H-II Transfer Vehicle (HTV) cargo spacecraft, respectively.