November 10, 2021
— NASA's first rookie astronaut to lead a space mission in 48 years (almost to the day) is now on his way to the International Space Station, commanding a crew of three, including the 600th person to fly into space.

Crew-3 commander Raja Chari, pilot Tom Marshburn and mission specialist Kayla Barron, all with NASA, together with mission specialist Matthias Maurer with the European Space Agency (ESA), lifted off on Wednesday (Nov. 10) for a six-month stay on the space station. Flying on SpaceX's third Crew Dragon spacecraft to enter service, which they named "Endurance," the four astronauts launched at 9:03 p.m. EST (0203 GMT Nov. 11) atop a SpaceX Falcon 9 rocket from Pad 39A at NASA's Kennedy Space Center in Florida.

After delivering the Crew-3 astronauts to space, the Falcon 9 first stage, which previously launched the CRS-22 Cargo Dragon in June, descended to a landing and was recovered for its reuse by SpaceX's "A Shortfall of Gravitas" droneship stationed in the Atlantic Ocean.

Following a 22-hour rendezvous, the Endurance to expected to autonomously dock to the forward-facing port of the space station's Harmony node at 7:10 p.m. EST on Thursday (0010 GMT Nov. 12). Update: Docking occurred at 6:32 p.m. EST (2332 GMT).

The crew's arrival will restore the orbital complex's Expedition 66 contingent to seven, including Crew-3 astronauts Chari, Marshburn, Barron and Maurer and Soyuz MS-19 crewmates Anton Shkaplerov and Pytor Dubrov of Roscosmos and Mark Vande Hei of NASA.

Crew-2 astronauts Shane Kimbrough and Megan McArthur of NASA, Thomas Pesquet with ESA and Akihiko Hoshide with JAXA (Japan Aerospace Exploration Agency) were originally planned to be on the space station for the handover but due to weather forecasts and a delay caused by a "minor medical issue" with a Crew-3 member, the Crew-2 astronauts returned to Earth on Monday (Nov. 8).


Chari, Marshburn, Barron and Maurer will remain on the station through April. During their stay, they will help perform hundreds of science experiments and oversee the arrival and departure of visiting vehicles, including Soyuz MS-20 with two Japanese "space tourists" and the first Axiom Space private crew, Ax-1, including former NASA astronaut Michael Lopez-Alegria.

The Crew-3 astronauts will also perform spacewalks to maintain and configure systems outside of the station, with the first by Marshburn and Barron scheduled for Nov. 30. Maurer may become the first non-Russian crew member to perform an extravehicular activity (EVA) wearing a Russian Orlan spacesuit since 2009 in order to deploy a European robotic arm on the exterior of the Russian Nauka multipurpose laboratory module.

Chari, 44, is NASA's first first-time flyer to serve as a mission commander since Jerry Carr led the third and final Skylab orbital workshop crew who launched on Nov. 16, 1973. (Joe Engle was also a rookie NASA astronaut when he led the second flight of the space shuttle, STS-2, in November 1981, but had previous spaceflight experience as a NASA research pilot flying the X-15 rocket plane.)

An astronaut since 2017, Chari is a colonel in the U.S. Air Force with over 2,000 hours flying time and earned his masters degree in aeronautical and astronautical engineering from MIT.

"The decision was made by NASA," said Chari, telling reporters about his selection as Crew-3 commander. "I think it is really a tribute to the rest of the crew that they trust me to actually do this. I think it's more of a testament to their training and skill that they trust a rookie to do that and I think it is also a sign in our trust in the maturity of the vehicle, the fact that we've proven it out."

"Being in the commander role, and I use this analogy all the time, but it is really more like being coach than a dictator, and specifically, more like a professional coach, where everyone on the crew is as qualified and skilled to do the job and it is just a matter of finding the best way to work efficiently together," said Chari.

Chari and Barron, 34, are the first two members of their astronaut class, "The Turtles," to fly into space. A submarine warfare officer in the U.S. Navy, Barron has a master's degree in nuclear engineering.

"We do have a few things in store — that I don't want to give away — for representing our class in space," Barron told collectSPACE in an interview. "But we are really excited about the upcoming Turtle-takeover of the space station."

Barron and Chari are also members of NASA's Artemis team, selected with 16 other astronauts to help prepare for the United States' return to the moon. The experience they gain aboard the space station is intended to ready them for future Artemis mission assignments.

Marshburn, 61, is the only veteran astronaut on Crew-3, having previously flown on a space shuttle mission in 2009 and a Soyuz flight to the space station in 2012. As pilot on SpaceX's Dragon, he now joins a small group of people who have launched on three different types of spacecraft.

Maurer, 51, has become the 600th person to fly into space based on the U.S.-recognized boundary at 50 miles high (80 km). A materials scientist with a doctorate in engineering, he was working for ESA on the Columbus laboratory flight control team in 2015 when he was selected to begin astronaut training.

Maurer's ESA science mission aboard the space station is called "Cosmic Kiss," which he described as his "declaration of love for space."

"The real motivation for flying to space is because we are fascinated with space," Maurer told collectSPACE. "We're flying to space because it makes sense, we create a lot of science, but also we are trying to solve all of the questions that you always had in the past and every kid asks the same questions. With the name 'Cosmic Kiss,' we want to bring all of the science and technology to an emotional level, bring more people along and allow more people to be fascinated by space."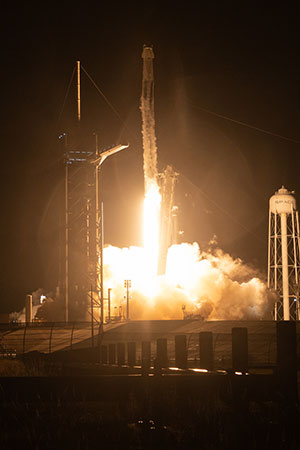 A SpaceX Falcon 9 rocket lifts off from Launch Complex 39A at NASA's Kennedy Space Center in Florida carrying "Endurance," a Crew Dragon spacecraft, with NASA astronauts Raja Chari, Tom Marshburn and Kayla Barron, along with Matthias Maurer of ESA on Wednesday, Nov. 10. 2021. (NASA/Joel Kowsky)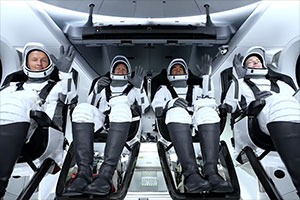 Crew-3 astronauts on board the Crew Dragon Endurance before launch, from left: Matthias Maurer of ESA, Tom Marshburn, Raja Chari and Kayla Barron of NASA. (SpaceX/NASA TV)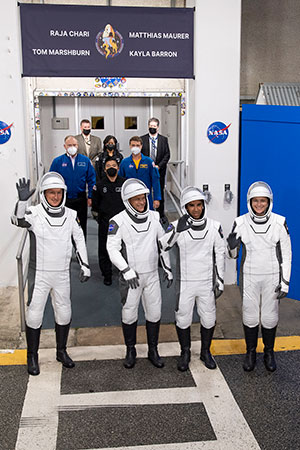 Crew-3 members Matthias Maurer, Tom Marshburn, Raja Chari and Kayla Barron exit the Armstrong Operations & Checkout Building at NASA's Kennedy Space Center to depart for Launch Complex 39A on Wednesday, Nov. 10, 2021. (NASA/Joel Kowsky)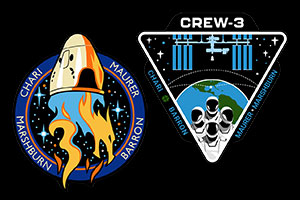 NASA (left) and SpaceX Crew-3 mission patches. (NASA/SpaceX)