Nov. 9, 2014
— An American, a Russian, and a German returned from the International Space Station late Sunday night (Nov. 9), landing in Kazakhstan after spending 165 days in orbit.

"What a ride it has been," NASA astronaut Reid Weisman posted on Twitter just before he, Roscosmos cosmonaut Maxim Surayev and European Space Agency astronaut Alexander Gerst closed the hatch separating their Russian Soyuz TMA-13M spacecraft from their home of five and a half months, the International Space Station, at 4:27 p.m. EST (2127 GMT) Sunday.

Three hours later, at 7:31 p.m. EST (0031 GMT), the three Expedition 40/41 crewmates undocked the Soyuz from the orbiting laboratory's Rassvet mini-research module, setting off on their return to Earth. Monitoring their departure from onboard the station were Expedition 42 commander Butch Wilmore and cosmonauts Alexander Samokutyayev and Elena Serova, who arrived at the outpost in September.

The Soyuz crew performed a 4-minute, 41-second engine burn at 10:05 p.m. EST (0305 GMT), slowing the craft and causing it to fall out of orbit.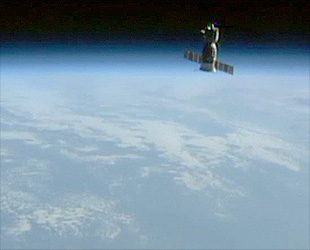 The Soyuz TMA-13M spacecraft with Max Surayev, Reid Wiseman and Alexander Gerst on board is seen flying free after undocking from the International Space Station on Nov. 9, 2014.
(NASA TV)
After reentering the atmosphere and descending under a parachute, Wiseman, Surayev and Gerst touched down on the frigid steppe of Kazakhstan at 10:58 p.m. EST (0358 GMT; 9:58 a.m. Kazakh local time, Nov. 10), northeast of the remote town of Arkalyk.

The capsule landed upright, but wind caught its parachute and pulled the spacecraft onto its side.

Poor weather conditions threatened to delay the Russian search and recovery forces' arrival at the landing site, but the team's helicopters were able to touch down near the Soyuz and help Wiseman, Surayev and Gerst with exiting the space capsule.

The three spacemen were provided brief medical checks before being flown to the Kazakh town of Kustanai for a traditional welcome ceremony. From there, Wiseman and Gerst were to be flown by a NASA jet to Scotland, where the two will part ways: Gerst will depart for the European Space Agency while Wiseman flies to the Johnson Space Center in Houston.

Surayev will be flown directly from Kustanai to the Gagarin Cosmonaut Training Center in Star City, located outside of Moscow.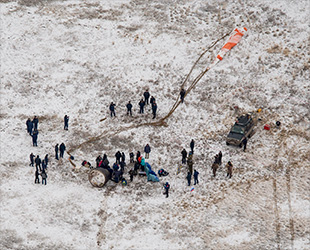 Russian search and recovery forces are seen from above at the Soyuz TMA-13M landing site in Kazakhstan.
(NASA/Bill Ingalls)
The three launched together to the space station onboard Soyuz TMA-13M from Russia's Baikonur Cosmodrome in Kazakhstan on May 28. The flight marked both Wiseman's and Gerst's first time in space. Surayev previously lived aboard the station for 169 days during Expeditions 21 and 22 from September 2009 through March 2010.

While on the space station this time, Surayev, Wiseman and Gerst conducted a record amount of science research and performed maintenance to keep the station's systems running. Surayev performed his second career spacewalk, jettisoning spent equipment and photographing the outside of the space station.

Wiseman ventured outside the station on two spacewalks, the first together with Gerst to stow a failed coolant pump and install a relay to provide backup power for the mobile transporter that moves the space station's primary robotic arm. Wiseman's second extravehicular activity (EVA) with Wilmore replaced a failed power regulator.

"This is the most unique ship with the most amazing crew and most incredible ground support that I've ever worked with, and it has been an honor and a privilege to serve 165 days up here," Wiseman said the day before he departed the space station.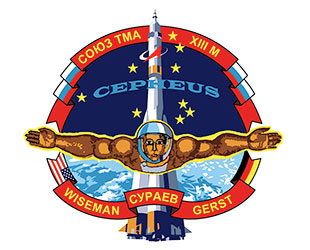 Soyuz TMA-13M crew patch. (Roscosmos/spacepatches.nl)
"They say [the station] is the most complex machine that humanity has ever built," Gerst said. "Now, even after half a year, it is impossible for me to fathom how complex it is to actually operate this machine."

"What I'm sure of is this is the finest example of teamwork that I've ever seen in my life," Gerst added.

The departure of Wiseman, Gerst and Surayev marked the end of Expedition 41. Wilmore, Samokutyaev and Serova are scheduled to remain aboard the space station through March.

Three more Expedition 42 crew members, including NASA astronaut Terry Virts, Anton Shkaplerov with Roscosmos and the European Space Agency's Samantha Cristoforetti, are scheduled to launch to the station on Nov. 23.