October 29, 1999
— The United States Postal Service has released the details for its commemorative stamps planned for 2000, which will feature the first holographic postage stamp. The $11.75 stamp, which also marks the first round issue, will depict a view of the Earth as seen by the Apollo 17 astronauts.
The hologram will be released as part of a set honoring the achievements of the U.S. space program, as well as "the infinite possibilities of future space endeavors."
Issued together as a poster, the 15
Space Achievement
stamps will be organized into four themes:
Escaping the Gravity of Earth
(2),
Landing on the Moon
(1),
Exploring the Solar System
(5),
Probing the Vastness of Space
(6).
The poster's lower right quadrant will feature Priority Mail stamps representing the technologies needed in solving the problems of escaping the gravitational pull of Earth and learning how to send missions into Earth's orbit. The stamps depict images of the International Space Station.
The upper left quadrant moves farther into space, commemorating (on an Express Mail stamp) the Apollo program that culminated in landing American astronauts on the moon. The background image from this pane is from the Apollo 16 mission.
Moving even farther from Earth, the lower left quadrant will represent the exploration of our solar system. Five $1 stamps will mark the first pentagonal stamps issued by the Postal Service. The upper right quadrant will focus on the exploration of deep space. Six stamps will be issued in international rate denominations.
The Space Achievement sheet will retail for a combined cost of $38.50. In addition, five souvenir sheets cropped from the poster will be offered individually.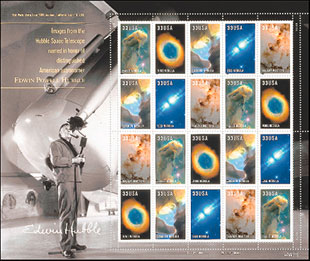 Also being released next year will be a stamp pane paying tribute to the work and contributions of astronomer Edwin Powell Hubble and the Hubble Space Telescope, which was named in his honor.
The five stamp images — Eagle Nebula, Ring Nebula, Lagoon Nebula, Egg Nebula and Galaxy NGC 1316 — were captured by the space telescope and are visual representations of its data. A 1949 black-and-white photo of Edwin Hubble, posing with the a telescope at Palomar Observatory, will serve as the selvage image.

Finally, although not entirely space related, the Postal Service will release "Stampin' The Future." In celebration of the approaching 21st century, the USPS held a stamp design contest for children 8 to 12 years of age. Of the four winning entries three feature space-inspired designs: Zachary Canter's "Astronauts," Morgan Hill's "Rocket," and Ashley Young's "Dog".