Astronaut Autograph Club announced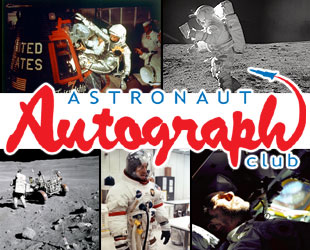 October 28, 2003 -- Soon after the United States had named their first seven Mercury astronauts in 1959, NASA reported being flooded with so many autograph requests from children, collectors, and enthusiasts that the space agency had to employ a mechanical signature machine to keep up with the demand.

Thousands of these "autopenned" astronaut portraits were framed and hung on the walls of kids' bedrooms, school classrooms, and offices as a reminder that with determination, even the sky is not the limit.

The Astronaut Scholarship Foundation (ASF), the non-profit organization founded by those same Mercury astronauts, announced today an opportunity for the next generation of students, as well as collectors and enthusiasts, to receive mail from some of their favorite astronauts -- this time with a guaranteed authentic autographed photograph.

The Astronaut Autograph Club™ (AAC) will deliver each month a full-color, 8 by 10 inch autographed photograph from an Astronaut Hall of Fame inductee. Accompanying each photograph will be a personalized letter from the astronaut describing the scene depicted in the photograph and other aspects of his historic mission(s).

Among those lending their signatures and stories are Mercury astronauts John Glenn and Walter "Wally" Schirra; two of the 12 men to walk on the Moon, Edgar Mitchell and Charles Duke; first Space Shuttle pilot Robert Crippen; and Skylab Space Station astronauts Owen Garriott and Paul Weitz. (See the sidebar to the right for a complete list.)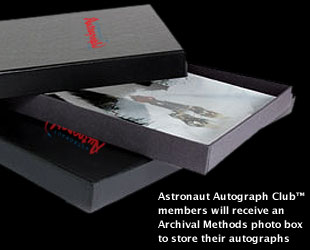 Limited to the first 350 to subscribe, AAC members will also receive a handsome photo box provided by Archival Methods to keep their autographs and two "Maximum Access" badges to the Kennedy Space Center Visitor Complex, including access to the Astronaut Hall of Fame.

As an incentive to act early, those who join before December 15, will receive their first installment in time for the holidays with a bonus rare autograph and letter set from Apollo 13 commander James Lovell.

Available through the ASF beginning today, the Astronaut Autograph Club can be joined for a recurring charge of $49.95 per month or save $100 when making a one-time payment of $499. Orders can be placed through the ASF website or by calling 321-269-6101 ext. 6176.

All funds raised by the AAC will go to scholarships for exceptional college students pursuing advanced degrees in science or engineering.

Through the years, the Foundation has awarded more than $1.5 million in scholarships to 158 college science and engineering students. ASF currently awards $144,500 annually to 17 students.

collectSPACE is proud to be a participating partner in the Astronaut Autograph Club.


back to News



© 2022 collectSPACE.com All rights reserved.
Questions? E-mail contact@collectspace.com


Feedback: Messages

Astronaut Autograph Club™ 2004 Astronauts:
Daniel Brandenstein
Robert Crippen
Charles Duke
Owen Garriott
John Glenn
Richard Gordon
Frederick Hauck
Edgar Mitchell
Walter Schirra
Richard Truly
Paul Weitz
Alfred Worden
BONUS: James Lovell
To order:
AstronautScholarship.org
or 321-269-6101 ext. 6176