Space auction results reset values to norm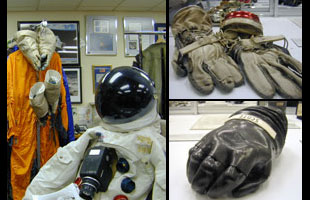 October 24, 1999 — Anticipation ran high as collectors gathered in Beverly Hills for the 13th bi-annual Superior Galleries auction. Based on the uncharacteristic results of a similar sale at Christie's New York last month, many were eager to see if the high prices would continue.

Two days and 2,815 lots later, collectors' apprehension was replaced with familiarity as the bids returned to more traditional levels. For comparison:
A photo autographed by the crew of Apollo 11 sold in New York for $10,000; at Superior a similar lot (613) sold for $1,300


A set of Gemini training gloves sold at Christie's for $16,000 versus $7,250 at Superior (lot 260)


A NASA emblem and name tag coated with lunar dust sold for $280,000 in New York; a stowage bag (lot 946) coated with lunar dust realized $16,000
The general consensus was that Christie's prices were generated by investors, as opposed to the prodominantly collector-packed audience at Superior.

That is not to suggest that Superior did not have its own astronomical realizations:

Edward White's gold astronaut lapel pin (lot 277), the first of such pin's ever offered at sale, sold for $13,500.


Two Apollo 11 flown postal covers (lots 589 & 590) sold for $27,500 and $20,000 respectively.


Components from an RX-3 Prototype Space Suit (lot 347) sold for $8,500.


Wernher von Braun's "B" autograph on a draft speech in which he questions whether the Soviet's launched a man into space sold for $6,250.
As with both auctions, the most popular items were those from Apollo, especially material flown to the Moon.

Other results at Superior:

Two covers (lots 103 & 166) autographed by the original 7 Mercury astronauts (the only complete sets in the auction) sold for $1,900 and $750 respectively.


Two items flown on John Glenn's Mercury 6 flight, a locator beacon (164) and battery (165), sold for $2,100 and $1,150 respectively.


Apollo 15 Commander Dave Scott's back-up flight glove (lot 983) sold for $1,800.


A prototype moon boot realized $5,000.


A flown U.S. silk flag, flown by Ed White's during his famous spacewalk, sold for $6,000.
A Superior Galleries representative told collectSPACE a complete list of realized prices will be available "a couple of days" after the auction closed.
back to News



© 2023 collectSPACE.com All rights reserved.
Questions? E-mail contact@collectspace.com