Astronaut baseball enters auction orbit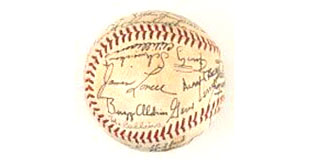 October 19, 1999 — At a Houston Colts baseball game in 1963, representatives of the national pastime and the national promise produced a piece of sports memorabilia of stellar proportions. In November, Mastro Fine Sports Auctions will auction an incredible baseball autographed by all 30 astronauts from the Mercury, Gemini and Apollo programs.

The story of the ball's creation begins at a Colt's game.

Two astronauts found themselves seated next to the wife of the Colts' manager, Harry Craft. The fliers asked Mrs. Craft for autographs from her husband's players. Sensing history in the making, Mrs. Craft obliged their request and then made one of her own — a baseball signed by all the astronauts.

Thirty astronauts autographed the offical National League (ONL) baseball for Mrs. Craft. The signatures include:


Alan Shepard
Virgil Grissom
John Glenn
Scott Carpenter
Walter Schirra
Gordon Cooper
Deke Slayton
Neil Armstrong
Frank Borman
Charles Conrad
James Lovell
James McDivitt
Elliott See
Thomas Stafford
Edward White

John Young
Buzz Aldrin
William Anders
Charles Bassett
Alan Bean
Eugene Cernan
Roger Chaffee
Michael Collins
Walter Cunningham
Donn Eisele
Theodore Freeman
Richard Gordon
Russell Schweickart
David Scott
Clifton Williams

"It's miraculous," said William Mastro, whose company is offering the astronaut autographed ball.

"Ten of the original 30 [astronauts] are deceased and six of them passed on before 1967. The rarity of this item coupled with its historical significance has to make it one of the most collectible items I've ever encountered," said Mastro.

Mastro describes the ball as in near mint condition. It is accompanied by a letter of authenticity from Carole Craft, the daughter of Harry Craft.

The baseball's minimum bid has been set at $10,000.

In addition to the baseball, the Mastro auction will feature over 1,000 lots of high-end sports memorabilia featuring other rare pieces associated with Joe DiMaggio and Babe Ruth. The auction will be held November 18 to 19, 1999.
back to News



© 2023 collectSPACE.com All rights reserved.
Questions? E-mail contact@collectspace.com