Oct. 14, 2015
— Almost a year since its last commercial cargo freighter was lost in a launch explosion, Orbital ATK is again preparing to send its uncrewed Cygnus spacecraft to the International Space Station, staging the vehicle at a different launch site and debuting its mission patch.

The aerospace company is targeting Dec. 3 for the return to flight of its Cygnus on a United Launch Alliance (ULA) Atlas V rocket from the Cape Canaveral Air Force Station in Florida. If the schedule holds, the mission will lift off at approximately 6 p.m. EST (2300 GMT) from Complex 41 for a three-day journey to the space station.

Designated OA-4, the mission will mark the resumption of Orbital ATK's commercial resupply service flights under a contract with NASA since its previous Cygnus (Orb-3) was destroyed on Oct. 29, 2014 in a failure of the company's Antares booster from the Mid-Atlantic Regional Spaceport at the Wallops Flight Facility in Virginia.

"These are exciting times for the Cygnus team at Orbital ATK," said Frank Culbertson, president of the company's Space Systems Group, in a statement. "With OA-4 set to launch in December and at least three additional missions to the space station planned in 2016, we remain solidly on schedule to meet our CRS cargo requirements for NASA."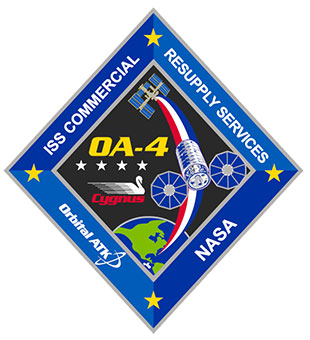 Orbital ATK's OA-4 Cygnus mission patch.
(Orbital ATK)
The December mission is the first of two planned Cygnus flights to launch on ULA's Atlas V, a detail represented on Orbital ATK's OA-4 mission patch by a red, white and blue banner extending from the Cape to the space station. The company's OA-6 mission, currently targeted for March, will also fly from Florida.

OA-5 will then mark a return to Virginia with Orbital ATK's redesigned Antares using new Russian RD-181 engines.

The OA-4 mission will mark the first flight of the enhanced variant of the Cygnus, which is capable of delivering more than 7,700 pounds (3,500 kg) of crew supplies, equipment and scientific experiments to the space station. The flight will also be the first to use Orbital ATK's UltraFlex solar arrays, as produced by the company's space components division.

According to NASA, the science payloads flying on OA-4 include a new life science facility that will support studies on cell cultures, bacteria and other micro-organisms; the first microsatellite to be deployed from the space station; experiments to study the behavior of gases and liquids, as well as test the properties of molten steel; and evaluations of flame-resistant textiles.

The Cygnus pressurized cargo module that will launch on OA-4 was delivered to NASA's Kennedy Space Center in August. The service module, which houses the avionics, electrical, propulsion and communications systems for the spacecraft, shipped to Florida on Monday (Oct. 12), where it will be integrated with the PCM.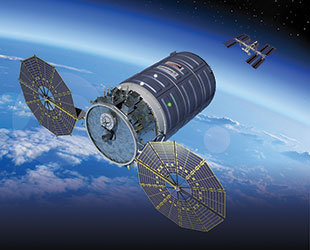 Artist's concept of Orbital ATK's Cygnus in orbit.
(Orbital ATK)
Final assembly, cargo loading and fueling of the Cygnus will take place at Kennedy before the supply ship is mated to the Atlas V rocket for launch.

Orbital ATK's Cygnus is one of two cargo vehicles NASA has contracted to restock the station. SpaceX's Dragon is also awaiting a return to flight after the company's Falcon 9 rocket also suffered a launch failure in June. SpaceX is targeting its next Falcon 9 launch for early December, with the first post-accident Dragon flight in January.

Orbital ATK's (formerly Orbital Sciences) prior successful resupply missions to the station were launched in January and July 2014. The company also flew a successful demo flight of its Cygnus spacecraft in September 2013.

Orbital ATK has a tradition of naming its Cygnus modules, with the first four named after late astronauts — G. David Low, C. Gordon Fullerton, Janice Voss and Deke Slayton — who worked for or made contributions to the company's success. The name of the OA-4 Cygnus is expected to be announced in November.