January 9, 2014
— A commercial space freighter packed with science experiments and crew supplies launched for the International Space Station on Thursday (Jan. 9), after being delayed three weeks by a string of unusual events.

Orbital Sciences Corp.'s Antares rocket and Cygnus cargo ship lifted off at 1:07 p.m. EST (1807 GMT) from the Mid-Atlantic Regional Spaceport's Pad 0A at NASA's Wallops Flight Facility in Virginia. The unmanned spacecraft is now on its way to a Sunday morning (Jan. 12) rendezvous with the space station.

The mission, Orbital's first NASA-contracted space station resupply mission, waited to launch so that critical repairs could be completed to the orbital outpost, for extreme cold temperatures to subside and for the radiation effects from a massive solar flare to be better understood.

Flying as part of Orbital's $1.9 billion contract with NASA's Commercial Resupply Services (CRS) program, the Orb-1 mission follows an April 2013 test flight of the Antares and a Cygnus demonstration flight to the station in September. Orbital will fly a total of eight CRS missions through 2016.

"This will be the first of three contracted delivery missions for us this year," Frank Culbertson, Orbital's vice president and former astronaut, said, noting that the company plans additional flights in May and October if its schedule holds. "At the end of the year, we'll have delivered approximately 5,500 kilograms [12,125 lbs.] of cargo to the space station commercially."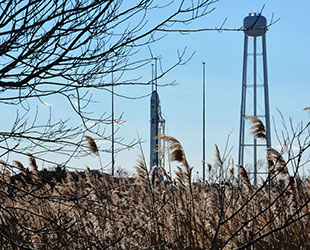 An Orbital Sciences Antares rocket is seen on Pad 0A at NASA's Wallops Flight Facility ahead of its launch of a Cygnus resupply ship to the space station on Jan. 9, 2014.
(collectSPACE)
Orb-1 in orbit

The 133-foot-tall (40.5 m.) Antares booster slowly climbed skyward, riding the thrust produced by two refurbished and upgraded NK-33 engines originally intended for the former Soviet Union's ill-fated N-1 moon rocket.

Four minutes into its flight, the Antares jettisoned its first stage and, after shedding the fairing shielding the Cygnus during ascent, the solid-motor second stage ignited at six minutes, pushing the cargo ship the rest of the way into space. About ten minutes after leaving the launch pad, the Cygnus spacecraft was deployed into orbit.

The launch had originally been scheduled for December, but NASA deferred the flight until a failed cooling pump on the space station could be replaced by spacewalkers. The mission was further put off by a cold front in Virginia, and then the unexpected eruption of a strong solar flare from one of the largest sunspot groups seen in a decade.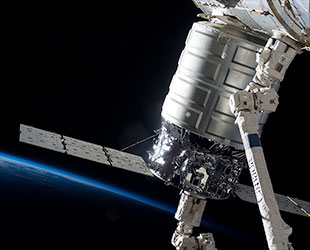 Spaceship G. David Low, Orbital Sciences' first Cygnus to fly to the space station, is seen attached to the Harmony node.
(NASA)
Its journey now finally underway, the Orb-1 supply ship will spend the next three and a half days conducting a series of thruster burns to raise its orbit, bringing it to within 2.5 miles (4 kilometers) of the space station. At 40 feet (12m), the station's crew will use the Canadarm2 robotic arm to capture and attach the Cygnus to the Harmony node.

Ants, fresh fruit and storybooks

After berthing the Cygnus, the astronauts and cosmonauts aboard the outpost will begin the process of unpacking of the cargo spacecraft of its 2,780 pounds (1,261 kilograms) of supplies, including computer equipment and spacewalk tools.

"Not quite a full load but pretty close," Culbertson said. He added that most of the spaceship's payload were science experiments.

"I can't emphasize enough the importance of carrying that research to the space station and continuing to develop that facility as a laboratory and as an outpost in which we can conduct experiments and learn more and more about living in space," he said.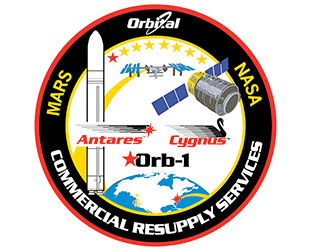 Orbital Sciences' mission insignia for CRS-1 (Orb-1).
(Orbital)
Among the investigations flying on the Orb-1 mission are research into antibiotic drug resistance, how sloshy liquids move around inside robotic satellites and 23 experiments proposed by students. More than 30 CubeSats, including a "flock" of 28 Earth imaging Planet Labs Dove minisats, are also being brought to the space station to be deployed through Japan's airlock later this year.

Cygnus also carries a colony of "ant-ronauts," a space ant farm to observe the social insects' swarm intelligence that could lead to more refined procedures for solving complex mathematical problems, like routing trucks or scheduling airline flights. Students in grades K-12 will observe videos of this army of space ants as recorded by cameras on the space station.

Students are also the audience for five storybooks being flown to the station by Orbital's freighter. The kids' books, four of which follow a dog named Max exploring the solar system, will be read and recorded by astronauts as part of an outreach program called "Story Time from Space."

Culbertson said the cargo also included care packages for the station's crew, and at the direction of NASA, a parcel of fresh fruit.

SS C. Gordon Fullerton

The Orb-1 Cygnus is also flying a photo of its namesake, the late astronaut and research pilot C. Gordon Fullerton.

Continuing a company tradition, Orbital christened the ship after an individual who contributed to its success. Orbital's first Cygnus to fly in space was named the G. David Low after a late space shuttle astronaut who helped establish the company's early commercial resupply services.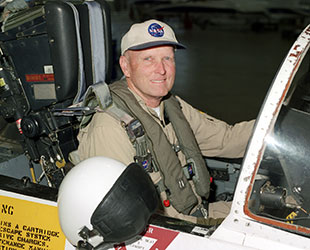 NASA astronaut and research test pilot C. Gordon Fullerton, seen here in 2002, died Aug. 21, 2013 at age 76.
(NASA Dryden)
Fullerton, who died last year, did not contribute to Orbital's CRS missions but served an important role at the start of their commercial spaceflights.

"The Pegasus was Orbital's first commercial venture into launching payloads into space. It was deployed from the B-52 [swept-wing heavy bomber jet] and the pilot for that mission was Gordo, as he was for many of our missions," Culbertson said. "So, we had a long time relationship with Gordon. He was very important to the company."

Fullerton's family visited Orbital's facilities last fall but was unable to return to Virginia for the launch.

'They're not able to be here today unfortunately, but I know they are watching and I want to send my best wishes to them and tell them we are going to take very good care of the 'SS C. Gordon Fullerton,'" Culbertson said.