UPDATE
(Jan. 8) — After spending the day analyzing the risks associated with the eruption of a massive solar flare, Orbital Sciences announced Wednesday evening (Jan. 8) its Antares launch team has decided to press ahead with a launch attempt of the Orb-1 mission to the International Space Station on Thursday (Jan. 9).

"Upon a deeper examination of the current space weather, Orbital's engineering team, in consultation with NASA, has determined the risk to launch success is within acceptable limits established at the outset of the Antares program."

Liftoff is targeted for 1:07 p.m. EST (1807 GMT) Thursday to set up the Cygnus spacecraft to rendezvous and berth with the space station early Sunday morning (Jan. 12).


---

January 8, 2014
— A massive flare eruption from the sun has scrubbed the planned Wednesday (Jan. 8) launch of a private cargo freighter to the International Space Station. The intense high-energy radiation rose from what appears to be one of the largest sunspot groups seen on the star's surface in a decade.

Orbital Sciences Corporation had been planning to launch its Antares rocket, topped with a Cygnus spacecraft, from the Mid-Atlantic Regional Spaceport's Pad 0A at NASA's Wallops Flight Facility in Virginia. The Orb-1 mission was to lift off at 1:32 p.m. EST (1832 GMT), coincidentally the same time that the solar flare erupted Tuesday.

"Early this morning, the Antares launch team decided to scrub [Wednesday's] launch attempt due to an unusually high level of space radiation," Orbital officials said. "[The proton-flux levels] exceeded by a considerable margin the constraints imposed on the mission to ensure the rocket's electronic systems are not impacted by a harsh radiation environment."

"Prior to beginning the countdown, we decided we did not have a path forward to ensure we'd have a safe launch so we decided to scrub for the day to do further analysis and evaluate both the event itself and our hardware to make sure we could in fact execute the mission," added Frank Culbertson, Orbital vice president and a former astronaut, during a media teleconference.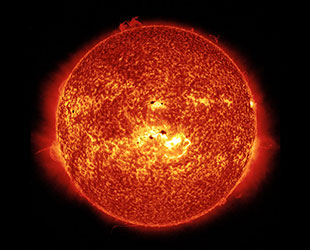 This full-sun view combines two images captured Jan. 7, 2014 by NASA's Solar Dynamics Observatory. Together, the images show the location of a giant sunspot group on the sun, and the position of an X-class flare that erupted at 1:32 p.m. EST.
(NASA)
Orbital has tentatively reset the launch for Thursday (Jan. 9) at 1:07 p.m. EST (1807 GMT) with a decision expected by 5 p.m. EST (2000 GMT) Wednesday. Forecasts predict an 75 percent chance of favorable (terrestrial) weather on Thursday, with conditions worsening Friday.

"Today, in consultation with NASA and outside experts in the field of 'space weather,' Orbital will continue to monitor the levels of space radiation with a goal of setting a new launch date as soon as possible," the company's officials said.

X-class solar flares are the most powerful solar storms on the sun. Mid-level storms are dubbed M-class events and can supercharge Earth's aurora (northern lights) displays, with weaker C-class flares rounding out the top three.

When aimed directly at Earth, the strongest X-class solar flares can pose a risk to astronauts in orbit and interrupt communications and navigation satellite operations.

At NASA's Mission Control in Houston, the flight control team reported that the space station's crew is not affected by this solar flux event and does not require any special precautionary measures. Orbital's concern centers only on its 133-foot-tall (40.5m) Antares rocket; the Cygnus would not be affected.

"Because the spacecraft is designed differently, designed to withstand these type of events and radiation effects, it is what we call 'hardened,' so we are really not concerned about the Cygnus," Culbertson said.

Officials at the Space Weather Prediction Center overseen by NOAA expect the flare to spark geomagnetic storms in Earth's magnetic field when a wave of super-hot plasma, or a "coronal mass ejection," reaches the Earth in the next few days.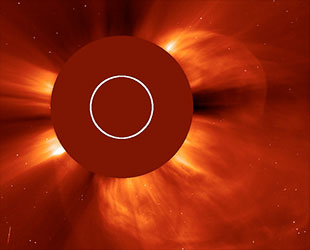 A giant cloud of solar particles, called a coronal mass ejection, explodes off the sun on Jan. 7, 2014, as seen in the light halo to the lower right in this image captured by ESA/NASA's Solar and Heliospheric Observatory.
(ESA/NASA/SOHO)
The sunspot group from where the solar flare originated — currently in the middle of the sun as viewed from Earth — is "one of the largest sunspots seen in the last 10 years," NASA officials said, adding it is as wide as seven Earths.

If Orbital can launch on Thursday, then its Cygnus cargo ship, named the Spaceship C. Gordon Fullerton, will arrive at the International Space Station Sunday morning (Jan. 12). The flight is delivering 2,780 pounds (1,261 kilograms) of supplies to the complex, including computer equipment, spacewalk tools, crew care packages and mostly, science equipment.

"I can't emphasize enough the importance of carrying that research to the space station and continuing to develop that facility as a laboratory and as an outpost in which we can conduct experiments, research and learn more and more about living in space," Culbertson said on Tuesday.

Though rare, Wednesday's scrub is not the first time that a launch has been postponed due to poor space weather. In September 2001, a Lockheed Martin Athena rocket was prevented from lifting off from the Kodiak Launch Complex in Alaska due a similar strong solar flare eruption.