June 28, 2015
— A SpaceX Falcon 9 rocket launching an uncrewed cargo capsule to the International Space Station broke apart just two minutes after lifting off from its Florida launch pad on Sunday morning (June 28).

The failure marked the commercial spaceflight company's first loss of a Falcon 9 after 18 successful launches since 2010, and the third loss of a supply-filled space freighter in less than a year.

The flight began normally, with the two-stage, 20-story-tall rocket leaping off the pad at the Cape Canaveral Air Force Station's Complex 40 at 10:21 a.m. EDT (1421 GMT). Two minutes and 19 seconds later, the vehicle disintegrated in a cloud of debris.

"Falcon 9 experienced a problem shortly before first stage shutdown," Elon Musk, SpaceX's CEO, said in an update posted to his Twitter account. "There was an overpressure event in the upper stage liquid oxygen tank."


The Falcon 9's first stage engines normally shuts down at about 159 seconds into flight. When the booster began to break apart at 139 seconds, it was approximately 30 miles high (45 kilometers) traveling more than 2,900 mph (4,700 kph), according to the on-screen telemetry display shown during SpaceX's live webcast of the launch.

"We do not expect this to be a first stage issue," Gwynne Shotwell, SpaceX president, told reporters. "We saw some pressurization indications in the second stage, which we'll be tracking down and following up on there."

"We did receive telemetry from Dragon after the event as well," she added. Video of the explosion appeared to show the gumdrop-shaped capsule separating from the Falcon 9 debris and tumbling away.

The Dragon cargo spacecraft, SpaceX's seventh to launch under a commercial station resupply contract with NASA, had been packed with more than 4,000 pounds (1,815 kg) of cargo, including the materials needed to directly support more than 30 student experiments and 35 of the about 250 science and research studies slated for the station's 44th and 45th crew expeditions.

The craft was also carrying in its unpressurized trunk the first of two International Docking Adapters (IDA) designed to enable SpaceX's crewed Dragon and Boeing's CST-100 spacecraft to dock to the space station.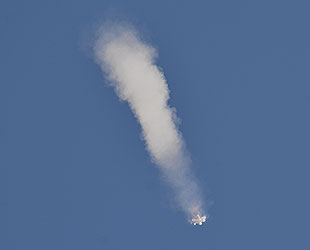 Two minutes and 19 seconds into its launch of a Dragon capsule, SpaceX's Falcon 9 rocket suffered an explosion.
(collectSPACE)
"This is a blow to us," said William Gerstenmaier, NASA's head of human exploration and operations. "We lost a lot of important research equipment on this flight. We lost the IDA, the docking adapter that we had planned to set us up for later [and] we lost a spacesuit. We will see how we can recover from that."

Compounding the loss were the two recent launch failures of an Orbital Sciences Cygnus cargo craft in October 2014 and a Russian Progress supply vehicle in April.

"We've always assumed we would lose a vehicle every so often. Spaceflight is very hard, getting to low Earth orbit is extremely challenging," Michael Suffredini, NASA's station program manager, said. "Of course, having three [failures] this close together is not what we'd hoped for."

"Fortunately however, we had put ourselves into a position prior to even the Orbital flight, where we had quite a bit of logistics onboard to support the crew and that has helped us through this period and will continue to help us through this next challenge," he added.

The space station has food and supplies to support a crew of six well into October, said Suffredini, even if no other cargo vehicles were to launch in that time. Currently, there are only three residents onboard the orbital outpost: NASA astronaut Scott Kelly and cosmonauts Mikhail Kornienko and Gennady Padalka. Three more crew members are set to join them on July 23.

"This loss [of the SpaceX Dragon] will not impact the crew flight," Gerstenmaier said.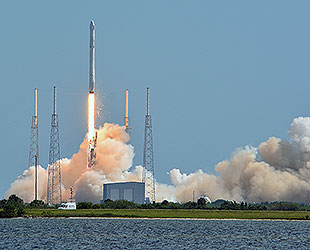 SpaceX's Falcon 9 rocket launches from Complex 40 at the Cape Canaveral Air Force Station at June 28, 2015.
(collectSPACE)
Russia plans to launch an uncrewed Progress cargo craft on Friday (July 3) and Japan has an H-II Transfer Vehicle (HTV) scheduled to fly in August.

"With the Progress fixing to fly, we will have a lot of crew logistics – food and water and provisions," Suffredini said. "The [Russians] are trying to get their supplies back up to a higher level and so that in turn will drive the logistics up for the entire [space station]."

Orbital, which is working to recover from the failure of its Antares rocket, has targeted the next flight of its Cygnus cargo carrier atop a United Launch Alliance (ULA) Atlas V booster for December, though that flight may be able to be moved up to October, if needed.

Meanwhile, SpaceX, working under a mishap investigation with the Federal Aviation Administration (FAA), intends to identify what went wrong on Sunday, fix it, and resume its flights as soon as possible.

"I don't want to speculate what it will take to get back to flight, because we do not yet know, we haven't pinpointed exactly what happened yet," Shotwell stated. "I'm sure we will find it rapidly, and we'll get back to flight as safely and reliably as we can."