Historic Space debuts Apollo acrylic
New lucite displays Kapton from every Apollo flight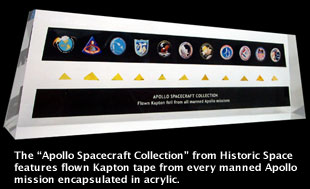 October 12, 2003 — Between the years of 1968 and 1972, the United States launched 11 missions as part of the Apollo Program. Two of these flights orbited the Earth, three orbited the Moon, and six landed men on the lunar surface.

Common to all 11 missions was the Apollo Command Module, a three seat capsule evolved from the Mercury and Gemini spacecraft, and the only Apollo component to return to Earth with the astronauts.

To facilitate a safe return, the Apollo Command Module was covered with a very thin layer of pressure-sensitive Kapton polyimide tape. This tape was coated with aluminum and oxidized silicon monoxide to protect the spacecraft from the extreme temperatures of outer space.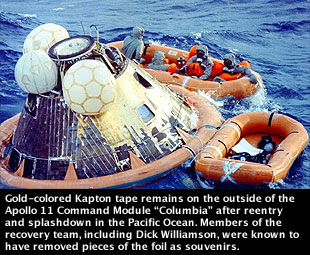 Most of this Kapton tape burned away during reentry, but what survived was often peeled off and kept by members of NASA's recovery crews as a souvenir of the historic Apollo mission they helped rescue. In the years since, collectors have sought fragments of the gold-colored foil, with small pieces from the individual missions attached to certificates of authenticity selling for hundreds of dollars.

Now, in what might be a first-ever offering of its type, UK-based space memorabilia dealer, Historic Space has debuted an acrylic presentation of Kapton tape segments from all 11 flown Apollo spacecraft.

"An assemblege of flown artifact material from all the manned Apollo Program missions struck me as a historically significant presentation," said Joe Davies, Proprietor of Historic Space in an e-mail interview. "It befits both the achievements of Apollo and my own drive to create important acrylics at Historic Space."

"I also felt that the spiralling cost of very small fragments of Kapton foil was precluding collectors from creating such an assemble themselves, and I desired to produce such a collection at a fair retail price, significantly less than the cost of acquiring these fragments individually."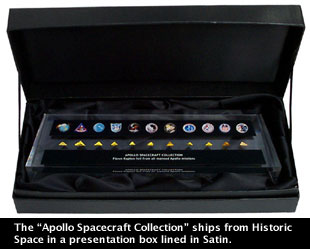 The results of Davies' work is the "Apollo Spacecraft Collection", a 10.8 by 3.2 by 1.5 inch chamfered-sided acrylic with 11 triangular pieces of Kapton, measuring between 6 and 10 millimetres in diameter. Each foil piece is positioned below an image of its mission's insignia.

Finding samples of flown tape to use for the Collection involved seeking the assistance of other dealers and acquiring the collection of a member of the Apollo team.

"I was fortunate in acquiring a collection of flown artifacts assembled by a Rockwell (manufacturers of the Apollo Command Module) employee at the time of the missions," wrote Davies. "This enabled me to fill in some of the gaps in my list of the 11 Apollo missions."

According to the Historic Space certificate of authenticity that accompanies each acrylic, other Kapton samples were acquired from Dick Williamson of the Apollo Recovery Crew and from Ken Havekotte of SpaceCoast Cover Service.

The "Apollo Spacecraft Collection" acrylic ships in a presentation case with a Satin inner liner. Available beginning today through their website, Historic Space is offering an introductory price of $995 (regularly $1295).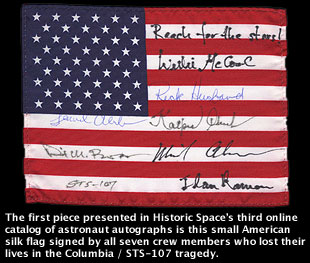 Also debuting today from Historic Space is their third online catalog of rare astronaut autographed pieces.

In addition to signed photographs from Gus Grissom, John Young, Christa McAuliffe, and several from Neil Armstrong, there is also a 5.7 by 4.3 inch American flag autographed by the complete STS-107 crew.
back to News



© 2023 collectSPACE.com All rights reserved.
Questions? E-mail contact@collectspace.com