Michael Orenstein's Superior finale

October 9, 2001 — When the last hammer falls closing Superior's next auction, it will mark much more than a simple ending to another sale.

Michael Orenstein -- the proverbial "man behind the curtain" -- is leaving, and with him a nine year tradition of biannual space memorabilia auctions is coming to a close.

"I'm tired," sighs Orenstein. "At a certain point, you say enough is enough. You've paid your dues."

If there is any question that Orenstein has done more than his share, one must only look to the catalog for his final auction, scheduled to begin October 27 at the Beverly Hills, California firm's offices.

At over 2,800 lots, the sale is large, if not larger than any of the auctions previously hosted by Superior. Packed with photographs and descriptions -- most of which were written by Orenstein -- the catalog illustrates the amount of work required for a sale of this type.

Orenstein could have wiped his hands of the whole thing.

"I resigned in July," explains the soon-to-be-former Vice President and Chief Operating Officer. "But they asked me to stay for this [final] sale."

Going out on top

"In terms of balance, this is the best sale so far," boasts Orenstein. "[We] have an awful lot of interesting stuff."

"It's not heavy in the same material we've had time and time again. It's got a range of material for different buyers, with unusual highlights in all the major categories."

So many of the items are notable that selecting lots to feature appears a chore unto itself.

"The rocket mail section is fabulous, for those who collect such things," recounts Orenstein. "We have two different Mercury 7 autographed pieces, some more Ed White flown artifacts, and of course the Apollo 11 piece."

At first glance, "The First Man to Touch Moon Dust with His Bare Hands" appears to be a rather unassuming poster board montage.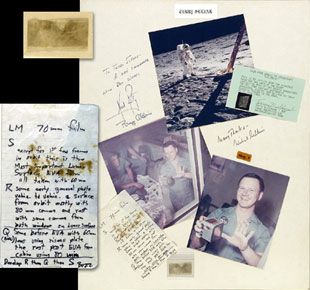 It doesn't take long however to realize that not only does this presentation piece include the signatures of the Apollo 11 crew and the first handwritten document written from the Moon, but attached to its surface is a sample of lunar dust recovered from Tranquility Base.

As Orenstein's catalog description explains, while opening a film canister carried aboard Apollo 11, NASA photographer Terry Slezak "suddenly found his hands covered with moon dust." Fearing possible contamination by "pathogens that could wipe out life on Earth," Slezak was immediately quarantined in the same trailer housing Armstrong, Aldrin and Collins.

The display board, complete with lunar dust lifted by tape from his hands, was presented to Slezak by Johnson Space Center as a memento of his role in history. It is estimated to sell for $35,000 to $50,000.

Other lots singled out by Orenstein include a flown Hasselblad camera carried aboard one or more Apollo Command Modules (est. $25,000 to $35,000), the autographs of flight pioneers Orville and Wilbur Wright on a check made from one to the other (est. $1,500 to $2,500), and artwork originally part of the Charles Hubbell exhibit which hung inside the Smithsonian (est. $10,000 to $15,000).

Another piece, a training camera used by first cosmonaut Yuri Gagarin (est. $35,000 to $50,000), would have been mislabled had it not been for the research of an interested bidder.

Originally identified by Orenstein as having been carried aboard Vostok 1, German collector and dealer Florian Noller also recognized the camera as being used by Gagarin, but during his training as back-up for Soyuz 1. Orenstein immediately updated his description and issued a public commendation to Noller for "correcting what would have been a major misdescription."

The final sale?

Though catalogs are now reaching bidders and the final planning for the auction is winding down, it appears Orenstein isn't quite ready to retire his auctioneer's hammer.

After leaving Superior, Orenstein plans to consult for the newly-founded but largely unknown Aurora. "They are very well connected with close ties to the astronauts and important connections to the aviation and space markets."

Though the details have yet to emerge, Orenstein says he will assist Aurora host a space memorabilia auction targeted for late April 2002.


back to News



© 2022 collectSPACE.com All rights reserved.
Questions? E-mail contact@collectspace.com