October 5, 2022
— The first Native American woman to fly in space and the only woman in Russia's active cosmonaut corps lifted off together for the International Space Station, flying with a first-time NASA pilot and a Japanese engineer who is returning to space for his fifth time.

NASA astronaut Nicole Mann, who in addition to being an enrolled member of the Wailacki of the Round Valley Indian Tribes in Northern California is the first woman to command a U.S. commercial spacecraft, launched on Wednesday (Oct. 5) with Roscosmos cosmonaut Anna Kikina, active U.S. Navy Captain and physicist Josh Cassada and Koichi Wakata of JAXA (Japan Aerospace Exploration Agency).

The four members of Crew-5 are now in orbit on the SpaceX Dragon "Endurance," having ridden a Falcon 9 rocket from Pad 39A at the Kennedy Space Center in Florida at 12:00 p.m. EDT (1600 GMT). They are scheduled to arrive at the space station at 4:57 p.m. EDT (2057 GMT) on Thursday.

Update: Endurance docked with the space station at 5:01 p.m. EDT (2101 GMT).

Once Endurance autonomously docks to the forward-facing port of the Harmony module and the hatches are opened, Mann, Cassada, Wakata and Kikina will join the station's 68th expedition led by Italian astronaut Samantha Cristoforetti of the European Space Agency (ESA). The crew will temporarily grow to 11 members, including NASA astronauts Kjell Lindgren, Bob Hines, Jessica Watkins and Frank Rubio, as well as Roscosmos cosmonauts Sergey Prokopyev and Dmitry Petelin.


Cristoforetti, Lindgren, Hines and Watkins are scheduled to return to Earth aboard SpaceX's Crew Dragon "Freedom" on Oct. 12, weather permitting. Before leaving, Cristoforetti will hand off command of the Expedition 68 crew to Prokopyev.

Mann, Cassada, Wakata and Kikina are planned to stay for five months through March 2023. During their time on orbit, they will take part in hundreds of science investigations, help maintain the space station and oversee the arrival of visiting vehicles, including possibly Boeing's first Crew Flight Test (CFT) of the CST-100 Starliner spacecraft.

Mann and Cassada were previously assigned to Starliner missions before delays resulted in their being moved to SpaceX's Crew-5.

"If we are up there when CFT arrives that will be an incredibly exciting thing," said Cassada in a pre-flight interview with collectSPACE. "To be in a position where we get to see the fruits of our efforts, we get to see that they pulled it off and were successful and that we contributed in some small way to that, that's going to be an exciting day. There are going to be a lot of high fives up there. I can guarantee it."

Cassada, 49, and Mann, 45, are both members of "The Chumps," NASA's 2009 astronaut class. Like Cassada, who is active Navy, Mann is a colonel in the U.S. Marine Corps. She is NASA's third astronaut with Native American heritage and the second to be enrolled in a tribe (Skylab astronaut Bill Pogue was of Cherokee and Choctaw heritage and space shuttle mission specialist John Herrington is a member of the Chickasaw Nation).

"I do have a small dreamcatcher that is from my mother that will be a special part [of the mission]," said Mann, speaking of the items she packed for the space station. "I think of my childhood and of my community and my family that that will represent."

Wakata, 59, is the only member of Crew-5 to have flown in space before. He earlier flew on three space shuttle missions and one Russian Soyuz flight to the International Space Station, logging a total of 347 days in orbit before this flight. He now joins the small group of travelers who have launched on three different types of spacecraft, including NASA astronauts Wally Schirra (Mercury, Gemini and Apollo), John Young (Gemini, Apollo and space shuttle), Shane Kimbrough, Tom Marshburn and Michael Lopez-Alegria (shuttle, Soyuz and Dragon), as well as fellow JAXA astronauts Soichi Noguchi and Aki Hoshide (shuttle, Soyuz and Dragon).

Kikina, 38, is only the sixth Russian woman to launch into space, after career cosmonauts Valentina Tereshkova, Svetlana Savitskaya, Yelena Kondakova and Yelena Serova and actress Yulia Peresild.

"Ah, it's true, it's not so simple," said Kikina, replying to a reporter's question about how hard it is for women to become cosmonauts in Russia. "It's possible. I don't know, somehow I did it in my time in 2012. Many tests and obstacles, but I did it. I'm lucky, maybe I [am] strong, but it happened."

Kikina's seat on Crew-5 came as part of a new crew swap agreement between Roscosmos and NASA. She is the first Russian cosmonaut to fly on a U.S. space capsule and the most recent Russian to fly on a U.S. spacecraft since 2002.

Crew-5 is SpaceX's fifth crew rotation flight for NASA, sixth crewed spaceflight in support of the U.S. space agency and eighth human spaceflight in the company's history. Crew-5 marks the second flight of Dragon Endurance, which earlier flew Crew-3 to and from the space station.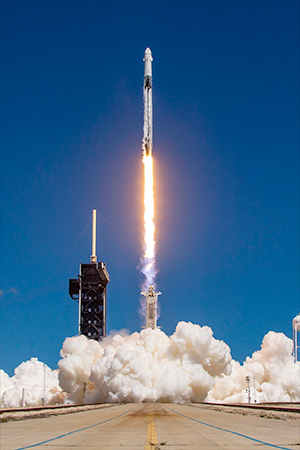 A SpaceX Falcon 9 rocket launches the Crew Dragon "Endurance" and Crew-5 astronauts from Pad 39A at the Kennedy Space Center in Florida on Wednesday, Oct. 5, 2022. (SpaceX)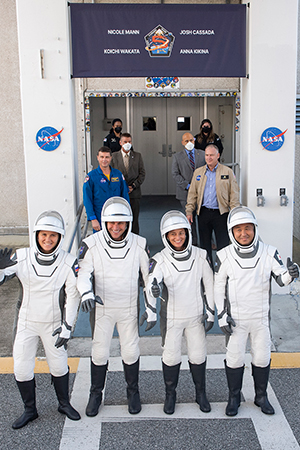 Crew-5 astronauts Anna Kikina, Josh Cassada, Nicole Mann and Koichi Wakata walk out from the Neil Armstrong Operations & Checkout Building at NASA's Kennedy Space Center in Florida on Wednesday, Oct. 5, 2022. (NASA/Joel Kowsky)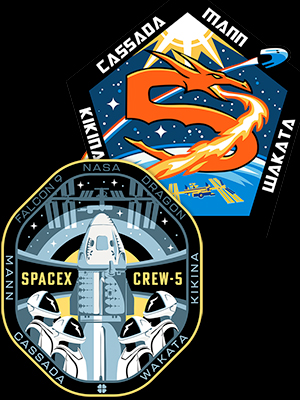 NASA and SpaceX mission insignia representing the Crew-5 launch to the International Space Station. (NASA/SpaceX)