Feb. 13, 2019
— John Herrington is looking forward to his new pocket change.

A former NASA astronaut who was the first enrolled member of a Native American tribe to fly into space, Herrington is among the individuals celebrated by the U.S. Mint's 2019 Native American $1 coin. Set for release at noon EST (1700 GMT) on Wednesday (Feb. 13), the coin highlights the contributions of American Indians to the U.S. space program.

"Having a coin honoring a lot of different folks is really nice. Finding out you are going to be on it, at least in the form of a being in a spacesuit spacewalking, is fabulous. I was thrilled when I found out about it and honored," said Herrington in an interview with collectSPACE.

"I plan on purchasing some for my personal use and to give to friends and family," he said.

The dollar coin retains the Sacagawea heads-side design that was first introduced by the Mint in 2000. The reverse features Mary Golda Ross, the first known Native American woman to become an engineer. Ross' work for Lockheed Martin helped advance the Agena rocket stage used by NASA for rendezvous and docking trials during the Gemini program in the 1960s.

The tails-side also depicts an Atlas-Agena rocket lifting off and, peering down from the top of the coin, a spacesuited astronaut. The Mint describes the latter as being "symbolic of Native American astronauts, including John Herrington."

"The coin has an astronaut on a spacewalk on it and people ask me, 'Is that you?' Well, I am the only Native American-enrolled member of a tribe that has flown and walked in space, so I guess it is me?" said Herrington, who is a member of the Chickasaw Nation. "I only have one picture of me in my spacesuit with my visor up. Every other picture of me during my spacewalk has the visor down, so I guess it is me."

Herrington launched as a mission specialist on space shuttle Endeavour's 2002 STS-113 mission. During the two-week flight, he performed three spacewalks to help install a new segment of the International Space Station's backbone truss.

U.S. law prohibits living individuals from being honored on currency, which is why the astronaut on the coin is not officially identified as Herrington.

"The nice thing is when something like this comes out, it opens up people to something they did not know about before and people who are really curious will go and learn more about it," explained Herrington. "They might learn about Jerry Elliott [of Osage and Cherokee heritage], who worked in Mission Control during the Apollo program and was part of the team that won the Presidential Medal of Freedom for the return of Apollo 13."

"Or Mary Ross, who was honored with the Ely S. Parker Award, the highest award that AISES, the American Indian Science and Engineering Society, gives out for contributions to math, science and engineering in the native community," he said. "She was one of the original people at Lockheed Martin's Skunk Works."

Ross, who died in 2008 at the age of 99, is depicted on the coin as writing out calculations. An equation, which describes the energy needed for a spacecraft to depart Earth and reach the orbit of another planet, is engraved in the billowing plume of the Atlas-Agena rocket's plume.

"Hopefully, more people will learn more and become more educated that Indians are from all walks of life, doing fascinating and important things. It is not just what people see in the movies and on TV," Herrington told collectSPACE.

The U.S. Mint on Wednesday is releasing the 2019 Native American dollar coin in rolls of 25 coins for $32.95, bags of 100 coins for $111.95 and boxes of 250 (10 rolls) for $275.95. The coins are of circulating quality and were struck at the Mint's facilities in Denver and Philadelphia.

At the end of the month, on Feb. 28, the Mint will also offer the "Rocketship," a kids coin set that includes a 2019 Kennedy half dollar with an uncirculated finish and a Native American dollar coin with a proof finish. The $9.95 coin set comes in a glow-in-the-dark display stand that is in the shape of a rocket and has an open slot for a child to add their favorite quarter.

"I will give it my grandson and granddaughter as something they can keep their entire lives," said Herrington. "Their having a rendition of their grandfather on the back of a coin is kind of cool."

For more information or to order the 2019 Native American $1 coin, see the U.S. Mint's catalog website.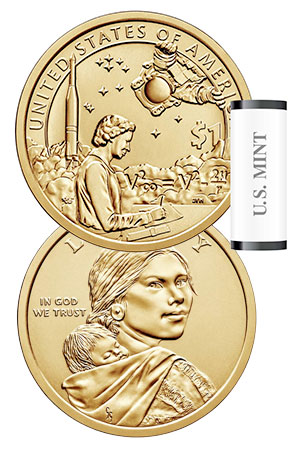 The United States Mint's 2019 Native American dollar coin honors American Indians in the space program, from engineer Mary Golda Ross to Native American astronauts, including John Herrington. The U.S. Mint releases the coin for sale on Wednesday (Feb. 13) in 25-coin rolls, 100-coin bags and 250-coin boxes. (U.S. Mint)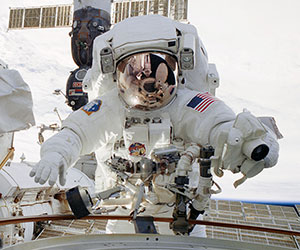 Chickasaw Nation member John Herrington performs the first of his three spacewalks outside the International Space Station during the space shuttle Endeavour's STS-113 mission in 2002. (NASA)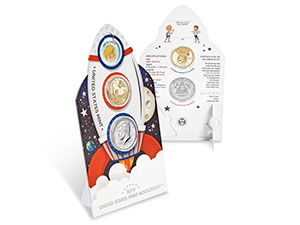 The glow-in-the-dark Rocketship kids coin set includes a 2019 Kennedy half dollar and a Native American $1 coin. (U.S. Mint)