Alan Bean "artagraph" announced

October 3, 2000 — A.R.T. International Inc. announced today that they completed of the reproduction of another limited edition Artagraph® by astronaut-turned-artist Alan Bean. His depiction of a walk on the Moon in "The Lone Star" was commissioned by The Greenwich Workshop of Connecticut.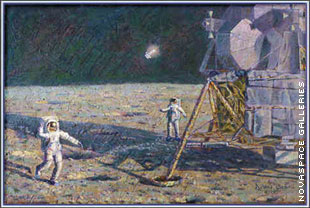 "I created this painting because I believe people now and in the future will want to know about the beginnings of the exploration of space. This painting is an artistic record of our heritage and our humanity," said Bean in a statement.

Painted on genuine aircraft board, the original "The Lone Star" was covered with a texturing compound containing small particles from the Apollo XII command module heat shield and pieces of a fragmented moon dust-covered emblem. It also bears the original signature of Mr. Bean.

Bean created the impressions illustrated in his work with the hammer that was used to secure the American flag into the lunar surface. A pair of lunar boots were used to replicate footprints in the surface of the painting.

Each of the 250 limited edition Artagraph replicas contain a sprinkling of gold dust created from Bean's 24 carat pin presented to him by NASA recognizing his contribution to space exploration.

"The Lone Star" painting is a sequel to the successful reproduction by A.R.T. in 1997 of Alan Bean's "Reaching For The Stars" which bore the original signatures of 24 astronauts who flew Mercury, Gemini, Apollo, Skylab and Apollo-Soyuz space missions.
back to News



© 2023 collectSPACE.com All rights reserved.
Questions? E-mail contact@collectspace.com