Gallery opens for space pioneer Low

October 1, 2002 — A permanent exhibit of memorabilia that honors the life of former NASA Deputy Administrator George Low opened Friday, September 27 at Rensselaer Polytechnic Institute in Troy, New York.

Located on the fourth floor of the George M. Low Center for Industrial Innovation, the display is the result of a gift from the Low family.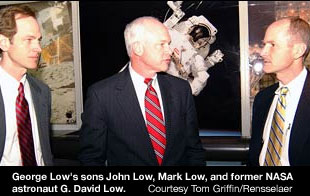 "Thanks to Mary R. Low and the Low family, we are able to bring home to Rensselaer these artifacts — not only of a distinguished career but of a bold and exciting adventure in American technological achievement," said Rensselaer's president during a ceremony held on Friday.

The Low Gallery, which resembles the inside of a space shuttle, includes items of personal and professional significance, such as autographed astronaut pictures, Low's Presidential Medal of Freedom and even one of his favorite green pens.

After completing his Bachelor and Masters of Science degrees at Rensselar, Low joined the National Advisory Committee for Aeronautics (NACA) as an engineer at the Lewis Flight Propulsion Laboratory in Cleveland, Ohio. There, he worked on such space technology problems as orbit calculations, reentry paths, and rendezvous.

Soon after NASA's formal organization in October 1958, Low transferred to the agency's headquarters, where he served as Chief of Manned Space Flight. In this capacity, he was closely involved in planning the Mercury, Gemini, and Apollo projects.

In February 1964, Low transferred to NASA's Manned Spacecraft Center in Houston, Texas (now the Johnson Space Center), and served as Deputy Center Director. In April 1967, following the tragic Apollo 1 pad fire, he was named Manager of the Apollo Spacecraft Program Office where he was responsible for the changes to the Apollo spacecraft that were necessary to make it safe for flight.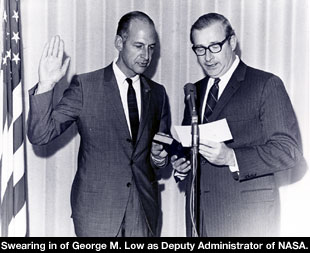 Low became NASA Deputy Administrator in December 1969, serving with Administrators Thomas Paine and James Fletcher. He became one of the leading figures in the early development of the space shuttle, the Skylab program and the Apollo-Soyuz Test Project.

He retired from NASA in 1976 to become president of Rensselaer Polytechnic Institute, a position he held until his death. He died of cancer on July 17, 1984.

"[Low] challenged our country to seek out the ultimate reaches of the unknown. Like Magellan, Columbus and Henry Hudson he sought through discovery to teach us the wonders of our own planet," former Governor of New York Hugh Carey is quoted in the exhibit as saying.
back to News



© 2018 collectSPACE.com All rights reserved.
Questions? E-mail contact@collectspace.com