September 29, 2013
— A private cargo spacecraft made a delayed but successful arrival at the International Space Station (ISS) on Sunday (Sep. 29), becoming the first of a new type of commercial spaceship to rendezvous with the orbiting laboratory.

Orbital Sciences' inaugural Cygnus unmanned spacecraft approached the station from below, autonomously flying to within 40 feet (12 meters) of the sprawling complex before being grappled by the station's robot arm at 6:00 a.m. CDT (1100 GMT).

"Cygnus capture complete," said European Space Agency astronaut Luca Parmitano, who was at the controls of the station's robotic arm when the Cygnus was captured.

The barrel-shaped freighter was then berthed to the Earth-facing port on the station's Harmony module at 7:44 a.m. CDT (1244 GMT). Parmitano and his fellow Expedition 37 crewmates will enter the cargo craft to begin unpacking its supplies on Monday (Sept. 30).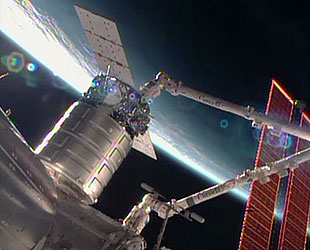 Orbital Sciences' first Cygnus spacecraft is seen berthed to the International Space Station's Harmony module.
(NASA TV)
The Cygnus' arrival at the station was originally scheduled for last Sunday (Sept. 22), four days after it lifted off from the Mid-Atlantic Regional Spaceport at the NASA Wallops Flight Facility in Virginia. Its Sept. 18 launch atop Orbital's Antares rocket went without problem, but a data glitch and then traffic at the station delayed the Cygnus' approach.

The Cygnus was beginning its first rendezvous attempt on Sept. 22, when it was discovered that the GPS data being provided by the station did not match the expected format. Orbital uploaded and tested a software patch correcting for the problem but by then it was within a day of the launch a Russian Soyuz spacecraft with three crewmembers for the orbiting outpost.

As such, Orbital's and NASA's mission managers decided to further postpone the Cygnus' berthing until after Soyuz TMA-10M docked on Wednesday (Sept. 25).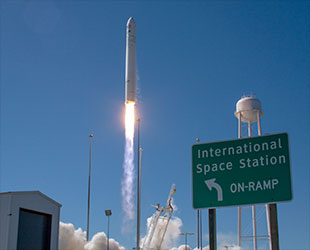 Orbital Sciences' Antares rocket, topped with the company's first Cygnus spacecraft, launches for the station.
(NASA/Ingalls)
Demo mission

This being its first time in flight, the Cygnus craft's primary mission was to demonstrate its ability to safely maneuver within the vicinity of the space station.

To that end, Orbital's Orb-D1 mission included a series of ten maneuvers that the Cygnus needed to execute before getting the "go" from NASA's flight controllers to approach the station. The tests were designed to verify the Cygnus could autonomously halt and retreat in an emergency, as well as confirm that its guidance systems were working as expected.

The craft completed all ten maneuvers without a problem.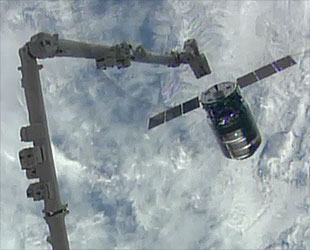 Orbital Sciences' first Cygnus spacecraft approaches capture by the International Space Station's robotic arm.
(NASA TV)
For this demonstration flight, the Cygnus was packed with about 1,600 pounds (725 kilograms) of food, clothing and other non-critical supplies, including care packages for the space station's crew.

"Family members were allowed to load personal things for the crew members," Frank Culbertson, a former astronaut and executive vice president at Orbital, said. "It is usually books or DVDs or letters, that sort of thing — and usually some snacks."

The Cygnus is also carrying an important nameplate.

"In my opinion, the most important thing was David Low's name that was on the hatch," Culbertson said, referring to the late shuttle astronaut G. David Low, who was leading the development of Orbital Sciences' commercial resupply services when he died in 2008. Continuing the company's tradition of naming its spacecraft after employees, Orbital christened its first Cygnus the "Spaceship G. David Low."

"We're happy that was able to go to orbit. I look forward to the station crew seeing it," said Culbertson.

"We're very happy to have G. David Low onboard with us," NASA astronaut Karen Nyberg radioed from the station.

Month-long milestone mission

The "G. David Low" is expected to remain attached to the space station for a month.

"Shortly after they have unloaded everything, [the station's crew will] probably start re-loading disposable cargo over the next three to four weeks," Culbertson described. "After about 30 days on orbit, we will detach from the station, be released by the robotic arm, and then do what we call a destructive re-entry, where everything on board... will burn up during the re-entry."

The Cygnus' first mission is the last to be partially-funded under NASA's Commercial Orbital Transportation Services (COTS) program, which the space agency initiated seven years ago to spur development of private cargo spacecraft and launchers.

Assuming the Orb-D1 demo mission proceeds without any problems, NASA is expected to approve Orbital Sciences begin delivering up to 44,000 pounds (20000 kilograms) of supplies over eight Cygnus missions to the space station under a $1.9 billion Commercial Resupply Services (CRS) contract. The first of those flights could launch as soon as December.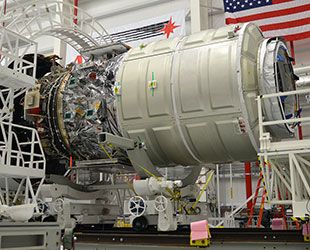 Orbital Sciences' Orb-D1 Cygnus spacecraft and service module, as seen being mated to its Antares launch vehicle.
(Orbital)
Cygnus is the latest among a fleet of five different cargo-carrying spacecraft used to resupply the space station.

"Planning traffic to the space station is quite a busy job," said Alan Lindenmoyer, chief of NASA's commercial cargo program. "There are a lot of vehicles coming and going to the space station nowadays."

In addition to Orbital's Cygnus, NASA also contracts with Space Exploration Technologies (SpaceX) for flights using its Dragon spacecraft, which to date has flown two out of its scheduled 12 resupply missions.

Other visiting vehicles supplying the space station include Japan's H-II Transfer Vehicle (HTV), Europe's Automated Transfer Vehicle (ATV) and Russia's Progress spacecraft.