Full Coverage: Lunar sample desk set sale
Article index:
---
Moon rock desk set fails to sell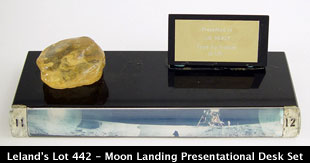 December 5, 2003 — Despite receiving news coverage, including a feature article in The New York Times, a desk set believed to contain Apollo 11 and 12 moon dust failed to attract even a single bidder during an Americana online auction organized by Lelands, Inc.

Bidding for the desk set closed at approximately 9:00pm ET, on December 4. A reserve of $50,000 had been assigned to the lot, though an appraisal by rare document specialist John Reznikoff with University Archives had set its value at approximately $1 million.

Had the desk set been sold, its new owner may still have had to answer to NASA. Despite an earlier investigation that resulted in the set being returned to its owner, NASA did not relinquish its claim to any lunar material that may have been encased inside the epoxy presentation.

"If it deems appropriate, NASA's independent Office of Inspector General will consult with the Department of Justice for guidance in determining whether the Government has an appropriate remedy available to it in connection with this material," explained NASA OIG Executive Officer Madeline Chulumovich in an e-mail to collectSPACE. "At this time, NASA has no conclusory evidence that the epoxy ball contains lunar material."


---

Moon rock desk set resurfaces for sale

December 1, 2003 — Lelands' December Americana online auction includes eight space memorabilia lots (six if you exclude two Star Trek props). Among them are a flag carried during combat in Vietnam and then flown on Apollo 16, a Mir space station control panel, and a desk set presented as a retirement gift to NASA employee Joseph Healy that may or may not contain tiny flecks of Apollo 11 and Apollo 12 moon rock.

The same desk set had previously been confiscated for testing by NASA in 1999, after Healy's daughter tried to have it appraised for sale. However, the space agency couldn't determine whether the replica moon rock topping the set was embedded with real lunar material without destroying the presentation. So, NASA returned the desk set to the family (eliciting an appearance by the desk set on NBC's The Today Show).

If someone bids and wins the desk set for the minimum of $50,000 or more, he/she will need to melt the epoxy to expose if any lunar material is inside.

As of today, four days before the auction's close, no bids had been recorded as received on Leland's website.


---

NASA returns confiscated desk set

January 12, 2000 — NASA has returned the retirement gift of one of its former employees after confiscating it based on claims the desk set was embedded with flecks of Apollo 11 and Apollo 12 lunar samples.

Peg Davis, the daughter of the late Joseph Healy to whom the desk set was gifted, appeared on NBC's "The Today Show" to say NASA had tested the pen-and-pencil set but was unable to determine whether it contained lunar material from the early Apollo missions.

"They said they looked at it through a microscope, and to be able to tell whether it was moon dust, they'd have to melt it down and do more intrusive testing, which would in essence destroy what it is," Davis told host Katie Couric.

The desk set was confiscated when Davis had the set appraised, reportedly in preparation for its sale.

Now reunited, Davis told Couric she wasn't sure what she would do with the set.

"For right now, it's going in my attorney's safe deposit box," she said. "He's going to take it to Tiffany's to restore everything they've done to tear it apart, and then we'll decide later."


---

Privately-owned lunar samples seized

September 25, 1999 — At a party celebrating his retirement from NASA in 1970, Joseph Healy received a desk set from his co-workers. However, this was no ordinary pen set; contained within were remnants from lunar rocks collected on Apollo 11 and 12.

The fleck-sized lunar material, encased in a plastic replica of a larger rock collected during the first moon landing, was gathered from inside the boxes which carried the samples back to Earth. As a result, the lunar grains escaped being inventoried by NASA.

The set, which had been in storage since Healy's passing several years ago, was recently sent by his daughter to be appraised in hopes of using it to finance her daughter's (Healy's granddaughter's) education.

Although NASA was reported to have known of the set since its presentation, the space agency has only now taken action to confiscate the lunar samples. As reported by the New York Times, NASA sent a representative from Goddard Space Flight Center in Greenbelt, Maryland to collect the set from the appraiser's office.

As they are deemed a national treasure, it is illegal to privately own or sell moon rocks collected by the astronauts during the Apollo program. However, since these samples were never recorded, the question of ownership has been raised by the Healys.

Before any further action can be taken, NASA will send the set to the Astromaterial Laboratory at Johnson Space Center to verify if the encased particles are actually of lunar origin.

The news comes only days after Brian Trochelmann plead guilty in federal court to attempting to sell a fake Moon rock for millions of dollars.

Claiming the lunar sample was a gift to his father by then-senator John Glenn, Trochelmann was indicted last November with his brother Ronald (who is scheduled to go on trial in November). The two allegedly knew the rock was of terrestrial origin but had continued to negotiate to sell the sample as lunar material.
back to News



© 2022 collectSPACE.com All rights reserved.
Questions? E-mail contact@collectspace.com