Christie's commands astronomical results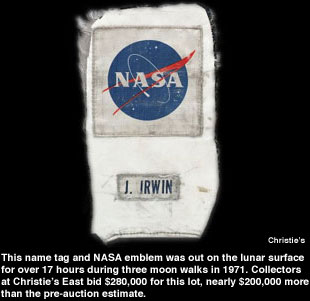 September 18, 1999 — Whether it was an autographed photograph, mission flight plan, contractor's scale model, or lunar dust-covered patch, bidders at Christie's 'space exploration' auction showed that when it comes to space memorabilia, the demand is sky high.

The auction, which brought together an overflowing room of collectors, investors and reporters, marked the first time Christie's had organized a space memorabilia sale.

Among those also in attendance were astronauts Walt Cunningham and Tom Stafford, both of whom had items in the auction.

Many of the auction's lots were consigned by astronauts, including memorabilia from Buzz Aldrin, Gordon Cooper, Edgar Mitchell and Walter Schirra. Items were also sold from the estates of fallen astronauts Charles Conrad, Gus Grissom, James Irwin and Deke Slayton.

The prices realized often exceeded pre-auction estimates and previous sales' results. Even items with values well established by the market were bid far beyond their usual prices. Among the more notable lot realizations:

an Apollo 1 crew signed photograph (lot 254), estimated at $6,000 - 8,000, closed at $11,000;


an Apollo 11 crew signed photograph (lot 260), estimated at $2,500 - 3,500, closed at $10,000; and,


a Lunar Module contractor's model (lot 308), estimated at $1,500 - 2,000, closed at $26,000 after a fierce bidding war between a woman attending the auction and a bidder on the phone;
However, not all the high closings were unexpected:

a flown Apollo 11 commemorative postal cover signed by crew (lot 119), estimated at $30,000 - 35,000, closed at $40,000;


an equipment stowage locker flown on Apollo 13 (lot 161), estimated at $20,000 - 30,000, closed at $35,000;


a NASA emblem and Irwin name tag coated with lunar dust (lot 171), estimated at $75,000 - 100,000, and considered by many in attendance as the highlight piece of the auction, closed at $280,000 to an unidentified individual bidding by phone; and,


a spacesuit (lot 196), described as used for training by Neil Armstrong, estimated at $60,000 - 80,000, closed at $160,000;
Beyond the hammer price, Christie's also added a 15% commission to each lot (not reflected in the prices cited above).
back to News



© 2023 collectSPACE.com All rights reserved.
Questions? E-mail contact@collectspace.com