National 'SPACE' exhibit to blast off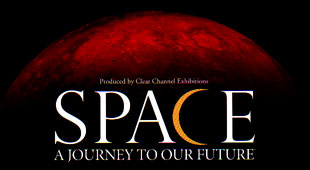 September 16, 2003 — A new traveling exhibit on space exploration is set to liftoff November 22, 2003 at Seattle's Pacific Science Center.

"SPACE: A Journey To Our Future" will travel to major science centers and museums in 12-15 cities over the next five years to ignite imaginations about the future of space exploration.

"We hope this exhibit will help inspire the next generation of dreamers and explorers," said Dr. Adena Williams Loston, NASA's Associate Administrator for Education at a luncheon held for reporters in Washington, DC. "We want to ignite the desire for discovery in the youth who'll be our next pioneers to explore the galaxy."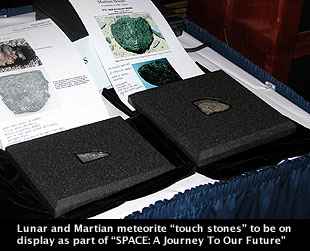 One of the largest and most comprehensive touring presentations to be dedicated to space exploration, the 12,000 square foot exhibition will be divided into four primary sections:

Dare To Dream
In a historical introduction to discoveries throughout the ages, a costumed Galileo invites visitors into a re-creation of his workshop where they can observe his original telescope. Visitors can relive 20th-century milestones by listening to part of the 1938 "War of the Worlds" mock radio broadcast of a Martian invasion and by viewing a 1950s TV broadcast of Walt Disney and Dr. Wernher von Braun, one of the world's first and foremost rocket engineers, as they introduced the country to the wonders of space travel.


A Dream Come True
To better understand America's remarkable missions to the Moon, exhibit-goers step onto the metal grating of the launch gantry beside a giant room-sized section of a re-created Saturn V rocket. From his console - a representation of Launch Control at Kennedy Space Center in 1969 - a live launch controller talks to visitors about the countdown to liftoff of Apollo 11, mankind's first trip to the Moon.


Living The Dream
Devoted to today's wonders of discovery, visitors can walk inside a recreated International Space Station (ISS) and even use a computer to control a replica of the working arm on the ISS. Interactive displays allow visitors to manipulate different engines to see the distances new propulsion technology will travel and navigate a rover over the Martian surface.


Dream of Tomorrow
Would-be explorers can board a Mars Orbiting Space Station for a motion-simulated mission to the Red Planet. On arrival visitors will encounter Mars astronauts in a re-created Base Camp, complete with living quarters modules. Visitors also can navigate remote-control vehicles and aircraft over the Martian terrain.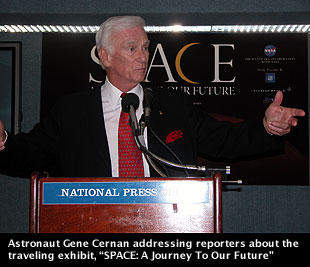 "Our exploration of space is an absolute necessity," said former NASA astronaut Gene Cernan, the second American to walk in space and the last man to leave his footprints on the Moon. "This exhibit could be the spark that lights the imagination of a future astronaut or a scientist in the space program."

Science centers across the country have served on an educational committee along with representatives from General Motors, NASA and the National Science Teachers Association to ensure the exhibit's educational message and content accuracy.

A teacher's guide will compliment the exhibit and is now available for download.

SPACE will remain on display in Seattle through May 9, 2004 before departing for St. Louis, MO until October 2004. Other cities expected to host the exhibit include: Atlanta, GA; Baltimore, MD; Boston, MA; Cleveland, OH; Denver, CO; Detroit, MI; Indianapolis, IN; Los Angeles, CA; Minneapolis, MN; New York, NY; Philadelphia, PA; and San Francisco, CA.

The exhibit is made possible by General Motors with additional support from the Space Day Foundation and Lockheed Martin. "SPACE: A Journey To Our Future" is produced by Clear Channel Exhibitions in educational collaboration with NASA and the NSTA.
back to News



© 2023 collectSPACE.com All rights reserved.
Questions? E-mail contact@collectspace.com


Feedback: Messages

Interactive highlights of SPACE: A Journey to Our Future"

Look through Galileo's telescope


Start Sputnik traveling across the sky in a backyard diorama


Ride the Lunar Module down to the surface of the Moon


Steer the Lunar Rover across the surface of the Moon


Touch a Moon Rock


Use the Robotic Arm on the Shuttle


Sit in a futuristic space plane and use touch screen to view commercial space ventures


Touch a Mars Rock


Control rovers on the surface of Mars


Control remote planes over the surface of Mars