September 13, 2016
— The story of the first American to endure nearly a year in space may be headed for the silver screen.

Sony Pictures on Monday (Sept. 12) secured the rights for a feature film based on "Endurance: My Year in Space and Our Journey to Mars," former NASA astronaut Scott Kelly's memoirs. Kelly spent 340 days on the International Space Station from March 2015 to March 2016 on his fourth and final, record-setting spaceflight.

Amy Pascal, former chair of Sony's motion pictures group, will co-produce the film under her Pascal Pictures banner with Rachel O'Connor. Elizabeth Cantillon, of The Cantillon Company, will also produce, according to media reports.

Scott and his twin brother, Mark, who also flew as a NASA astronaut, will executive produce. Mark Kelly's wife, former Congresswoman Gabby Giffords will consult on the movie, as will Margaret Lazarus Dean, who is writing "Endurance" with Scott.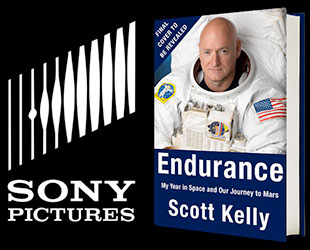 Sony Pictures acquired the movie rights to "Endurance" more than a year before the book is set to be released.
(Sony Pictures/Knopf)
"Endurance," to be published by Knopf in November 2017, will tell the story of Scott Kelly's recent journey into space and his life aboard the space station.

"Natural life doesn't exist here," Kelly wrote in an excerpt from the book released by Knopf in April. "The smell of the seasons, the warmth of the sun, the company of others — things we take for granted but I never will again."

"During my time in orbit," Kelly recalled, "I lost bone mass, my muscles atrophied and my blood redistributed itself in my body, which strained my heart."

"Every day," Kelly continued, "I was exposed to ten times the radiation of a person on Earth, which will increase my risk of a fatal cancer for the rest of my life. Not to mention the psychological stress, which is harder to quantify and perhaps as damaging."

In the book, Kelly also tells of the obstacles he overcame before launching to space, including his early struggles in school, his training as a Navy test pilot, and the work that was required to become an astronaut.

NASA's first one-year mission was designed to collect and verify medical and biological data so that future astronauts can embark on longer missions into deep space, including to Mars. Kelly flew the 340 days with Russian cosmonaut Mikhail Kornienko, whose own long-duration flight followed four other cosmonauts who each logged a year or more off Earth more than a decade ago.

Pascal Pictures was one of the production companies on the all-female "Ghostbusters" reboot and is attached as a producer on "Spider-Man: Homecoming." Pascal is also a producer on "Molly's Game," directed by Aaron Sorkin and starring Jessica Chastain.

Cantillon, who previously was an executive vice president at Sony, was a producer on "Galaxy Quest" in 1999 and on "Concussion" starring Will Smith in 2015.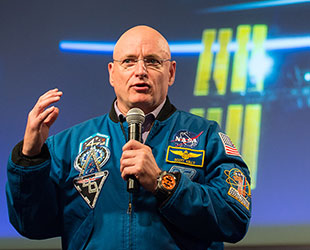 Scott Kelly speaks at NASA Headquarters in May 2016.
(NASA)
The Sony Pictures' movie is the second film project to be based on Kelly's yearlong space station mission.

In 2015, TIME Magazine produced a video documentary series chronicling Scott Kelly's flight and Mark Kelly's role as a ground control for a series of twin-focused studies. "A Year in Space," which originally was streamed online, was recut and expanded to air as the first of a two-part series for PBS in March. The second installment is scheduled to air in 2017.

Since returning to Earth and retiring from NASA in April, Scott Kelly has joined his brother as an ambassador for Breitling watches, helped kick off the countdown for Super Bowl LI (51) in Houston and embarked on a speaking tour sharing lessons he learned from spending a year in space.

In addition to "Endurance," Kelly is also set to pen several books for kids with Random House Children's Books and a book of the photographs he took aboard the space station.