Sept. 11, 2015
– A record-setting Russian cosmonaut, the first Dane in space and the first member of Kazakhstan's cosmonaut corps landed back on Earth Friday (Sept. 11), returning safely from the International Space Station.

Gennady Padalka, who has now spent more time in space than anyone in history, commanded the Soyuz TMA-16M spacecraft that touched down in Kazakhstan with Andreas Mogensen and Aidyn Aimbetov representing the European Space Agency (ESA) and KazCosmos, respectively.

Descending by parachute through the predawn sky, Soyuz TMA-16M made a thruster-assisted soft landing southeast of the town of Dzhezkazgan at 8:51 p.m. EDT (0051 GMT; 6:51 a.m. local time Sept. 12).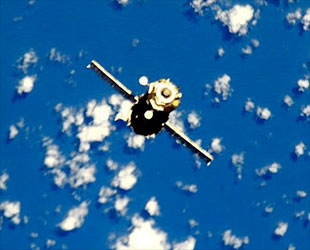 Soyuz TMA-16M leaves the International Space Station on Friday, Sept. 11, 2015 on its way back to Earth.
(@stationcdrkelly)
For Mogensen and Aimbetov, the touchdown marked the end of a 9 day, 20 hour and 14 minute mission to visit the space station that began with their launch with cosmonaut – and now Expedition 45 flight engineer – Sergei Volkov on Soyuz TMA-18M on Sept. 2.

For Padalka, the landing ended his most recent 168 days in space, bringing his career total to 878 days, 12 hours and 30 minutes over the course of his five missions. On June 29, three months (and two days) after his launch on Soyuz TMA-16M in March, Padalka passed the previous record for the most cumulative time spent in space of 803 days set in 2005 by cosmonaut Sergei Krikalev.

Padalka, Mogensen and Aimbetov departed the station at 5:29 p.m. EDT (2159 GMT) Friday, marking the end of the outpost's 44th crewed mission and the start of Expedition 45. Padalka, who commanded Expedition 44, turned over control of the orbiting laboratory to NASA astronaut Scott Kelly, who with Russian cosmonaut Mikhail Kornienko is now midway through a nearly yearlong mission aboard the space station.

In addition to Kornienko and Volkov, Kelly's Expedition 45 crew members include cosmonaut Oleg Koneneko, NASA astronaut Kjell Lindgren and Kimiya Yui with JAXA (Japan Aerospace Exploration Agency).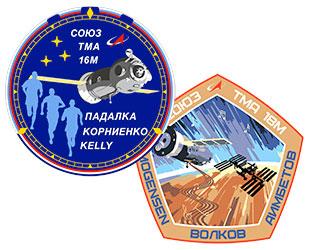 Soyuz TMA-16M and Soyuz TMA-18M crew patches.
(Roscosmos)
Now back on Earth, Padalka, Mogensen and Aimbetov will be flown to Astana, the capital of Kazakhstan, to be met by the nation's president, Nursultan Nazarbayev, in light of Aimbetov's mission. The 42-year-old air force pilot is the third Kazakh citizen to launch into space and the first to represent his country's fledgling cosmonaut corps.

From there, Aimbetov and Padalka, 57, will be returned to the Yuri Gagarin Cosmonaut Training Center in Star City, Russia, to be reunited with their families.

Mogensen, meanwhile, will be flown back to the European Astronaut Center in Germany. The 38-year-old aerospace engineer is now the first astronaut from Denmark to fly in space. His ESA "iriss" mission on board the space station involved a full slate of experiments and demonstrations, including trying out a suit designed to alleviate astronauts' back pain and teleoperating a robotic rover on Earth.