September 2, 2015
– The first second-generation Russian cosmonaut, the first astronaut from Denmark and the first (and at present, only) member of Kazakhstan's cosmonaut corps launched Wednesday (Sept. 2) on a two-day flight to the International Space Station to swap out crew members and spacecraft.

Sergei Volkov, whose father, Alexander, was a Soviet-era cosmonaut, Andreas Mogensen with the European Space Agency (ESA) and Aidyn Aimbetov of the National Space Agency of the Republic of Kazakhstan, KazCosmos, lifted off at 12:37 a.m. EDT (0437 GMT; 10:37 a.m. local time) on board Russia's Soyuz TMA-18M spacecraft from Site 1 at the Baikonur Cosmodrome in Kazakhstan.

Their launch, at least by some counts, marked the 500th liftoff of a rocket from Gagarin's Start, the launch pad from where the first human spaceflight began in 1961.

"Andreas, you're something like the Danish Yuri Gagarin," ESA's new Director General Johann-Dietrich Woerner told Mogensen before the launch. "I hope you have a fine and excellent time on board and that you will also inspire the Danish people, the youth — but also the European people, that space is really a very important issue for all of us."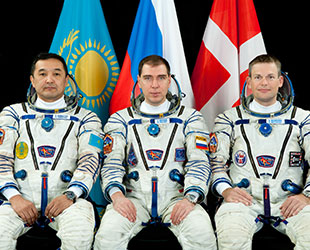 The Soyuz TMA-18M crew: Aidyn Aimbetov of KazCosmos, Sergei Volkov of Roscosmos, Andreas Mogensen of ESA.
(Roscosmos)
Mogensen, together with Volkov and Aimbetov, are set to arrive at the space station on Friday (Sept. 4), where they will dock with Russia's Poisk mini-research module. Their arrival will briefly grow the outpost's crew to nine members for the first time since November 2013.

Already on the station are the members of the Expedition 44 crew, including commander and Roscomos cosmonaut Gennady Padalka, flight engineers Mikhail Kornienko and Oleg Kornienko also of Roscosmos, NASA astronauts and flight engineers Scott Kelly and Kjell Lindgren and Kimiya Yui of the Japan Aerospace Exploration Agency (JAXA).

The nine astronauts and cosmonauts will work together for eight days.

"During the handover, we will be looking at [joint] Russian-European experiments and we'll also have [joint] Russian-Kazakh experiments," Volkov told reporters at a pre-flight briefing. "And there will also be standalone European and Kazakh experiments going on."

Then, a week from this Friday on Sept. 11, Mogensen and Aimbetov, along with Padalka, will board the Soyuz TMA-16M spacecraft that launched in March to return to Earth. Volkov will stay onboard the station, joining the Expedition 45/46 crew as a flight engineer, before returning home with year-long crewmates Kelly and Kornienko on Soyuz TMA-18M in March 2016.

Russia's Soyuz spacecraft are capable of staying on orbit for 200 days before needing to return to Earth. Normally, the three-member expedition crews cycle to and from the station every five to six months, but as a result of the first year-long mission, the handover "taxi" flight was needed.

Originally, Volkov and Mogensen were expected to fly with British soprano Sarah Brightman. After she backed out for "personal family reasons" last May, Roscosmos appointed Aimbetov to launch in her place. Though he is not the first Kazakh to fly in space, he is the first representative of the country's own cosmonaut corps to enter orbit.

The 42-year-old air force pilot spent six years training with Russian cosmonauts from 2003 to 2009, before returning home to wait a possible flight assignment. As it happens, his launch now coincides with a milestone in Kazakhstan's history.

"Our flight is happening at a special time — 550 years of Kazakh statehood is to be celebrated," Aimbetov said. "I [am taking] the flag of Kazakhstan with me."

Mogensen was chosen by ESA to become Denmark's first astronaut in 2009.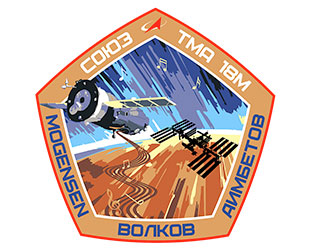 The Soyuz TMA-18M crew patch.
(Roscosmos)
"It was always a dream of mine to be an astronaut, so I'm very excited to finally be here after so many years," the 38-year-old aerospace engineer said. "Of course it is extra special when you're the first, not so much because it was part of the dream, but because it is a unique opportunity for me to bring attention to the International Space Station program."

"I'm going to use this flight to the best of my ability to not only bring awareness in Denmark, but all of Europe, to my mission and the important research we do aboard," he told reporters.

The Soyuz TMA-18M launch marks Volkov's third mission to the space station. Before launching on Wednesday, he had already logged just over 365 days in space during two long-duration expeditions in 2008 and 2011.

Soyuz TMA-18M is the 167th flight of the spacecraft since 1967. It is the 44th Soyuz to fly to the International Space Station since 2000.