September 10, 2013
– Three crewmembers returned from the International Space Station Tuesday night (Sept. 10), landing their space capsule on the steppe of Kazakhstan after spending five and a half months off the planet.

Roscosmos cosmonauts Pavel Vinogradov and Alexander Misurkin and NASA's Christopher Cassidy touched down at 9:58 p.m. CDT (0258 GMT; 8:58 a.m. local time Sept. 11) on board the Russian spacecraft Soyuz TMA-08M.

The trio's homecoming came three and a half hours after they undocked their Soyuz from the space station's Poisk module at 6:35 p.m. CDT (2335 GMT). Their departure for Earth marked the official end of the 36th expedition aboard the orbiting outpost.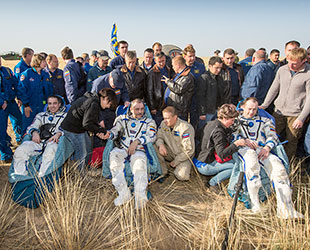 Chris Cassidy of NASA (at left), Pavel Vinogradov and Alexander Misurkin of Roscosmos, sit in chairs outside the Soyuz TMA-08M capsule just minutes after they landed.
(NASA/Bill Ingalls)
Roscosmos cosmonaut Fyodor Yurchikhin, NASA's Karen Nyberg and astronaut Luca Parmitano with the European Space Agency, who together had been aboard the space station since May, remained behind as the first members of Expedition 37.

Yurchikhin took over command of the station's crew from Vinogradov.

"The moment has come that we need to say goodbye to our wonderful home, this beautiful station where we spent over five months," Vinogradov said as part of a handover ceremony on Monday (Sept. 9).

Vinogradov, Misurkin and Cassidy launched and arrived at the space station on March 28, 2013. They were the first International Space Station-bound Soyuz crew to follow an expedited rendezvous, reducing their travel time from two days to just six hours.

During their 166 days in space together, the Soyuz TMA-08M crewmates participated in more than 100 experiments and oversaw the arrival of several supply ships, including Europe's Automated Transfer Vehicle (ATV-4), the "Albert Einstein," and Japan's fourth H-II Transfer Vehicle (HTV-4) "Kounotori-4."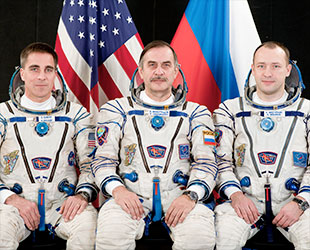 Soyuz TMA-08M crew portrait, from left: Chris Cassidy of NASA, Pavel Vinogradov and Alexander Misurkin of Roscosmos.
(GCTC)
All three crewmembers also worked outside the station on spacewalks, or extravehicular activities (EVA).

Vinogradov made one spacewalk, deploying and retrieving science experiments outside the Russian segment of the station. Misurkin conducted three outings, running cables and configuring equipment in preparation for the arrival of Russia's new multipurpose laboratory module "Nauka."

Cassidy also ventured outside on three EVAs, including a "precedent-setting" unplanned spacewalk to investigate a coolant leak. Cassidy's third spacewalk was unexpectedly cut short when his partner, Parmitano, developed a water leak inside his suit's helmet.

This was Cassidy's second trip to orbit, after launching to become the 500th person in space on a shuttle mission in 2009. He now has logged 182 days in space.

For Vinogradov, this was his third flight and long-duration stay in space, having earlier lived on board the Russian space station Mir and on the International Space Station as a commander of Expedition 13. He now has 547 days in space, ranking him 10th for his cumulative time in orbit among all of the world's space explorers.

Vinogradov, 60, has also become the oldest cosmonaut to land aboard a Soyuz.

Soyuz TMA-08M was Misurkin's first spaceflight.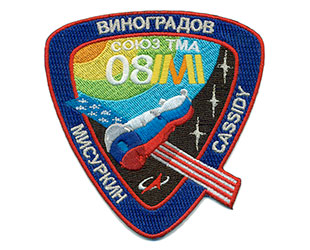 Soyuz TMA-08M crew mission patch.
(Spacefacts.de/Roscosmos)
Now back on the Earth, the cosmonauts will return to Star City outside of Moscow and Cassidy will be flown to the Johnson Space Center in Houston for rehabilitation.

Before leaving the landing site, Cassidy and Misurkin were to take part in the first of a series of tests in preparation for sending future astronauts to Mars.

"When you send a crew to Mars, where they have been traveling for a long time in a microgravity environment... you don't have a big team of folks [waiting there] like we do every time we recover a crew," NASA's space station program manager Michael Suffredini told reporters during a briefing. "The question is, what's their condition? What can we expect them to do?"

"This will be the first opportunity where we ask the crew members post-landing to do some exercises," Suffredini explained, adding that the basic tests, like asking Cassidy to sit or stand up, will be done out of view in a tent. "Very simple things to start with but it is exciting because it's really the first steps where we are using the crew's on-orbit condition — without some of the advantages of the post-flight conditioning — to see if they are able to take care of themselves."