July 16, 2013
— A scheduled six-hour spacewalk outside the International Space Station was cut short on Tuesday (July 16) after water began leaking into the helmet of one of the two astronauts conducting the outing.

European Space Agency (ESA) astronaut Luca Parmitano was working on routing an ethernet data cable outside the orbiting outpost when he first reported feeling the back of his head was getting wet. Acknowledging that he had been sweating, Parmitano said that the amount of water he was feeling exceeded what he thought he could be perspiring.

"I don't understand where it's coming from," he radioed.

Accompanied on the spacewalk by NASA astronaut Chris Cassidy, Parmitano described to Houston Mission Control that there were water globules floating around his helmet. In an attempt to resolve the problem, Cassidy suggested Parmitano try finishing the contents of his suit's drink bag, but as Parmitano emptied it, the water continued to fill the area around his head.

"My head is really wet and I feel it increasing," he said.

The astronauts estimated there was up to a half a liter of water floating inside Parmitano's helmet.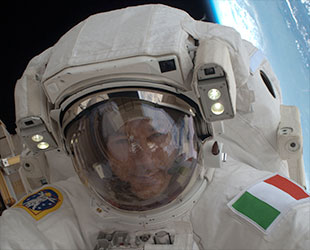 Luca Parmitano, as photographed during a spacewalk on July 9. During another spacewalk on July 16, his same helmet began to fill with water from an unknown source, ending the outing.
(NASA)
Out of precaution, flight director David Korth called an end to the spacewalk just after 8 a.m. CDT (1300 GMT), only one hour and nine minutes into the extravehicular activity (EVA). The astronauts made a quick retreat into the space station's Quest airlock and ended their spacewalk at 8:29 a.m CDT (1329 GMT).

As the module re-pressurized, Cassidy reported Parmitano was okay but had lost use of his spacesuit's radio to hear or communicate.

Once back inside the station, Parmitano was assisted by his Expedition 36 crewmates with doffing his now soaked helmet and spacesuit. Live video from the station showed water droplets floating away from Parmitano as his fellow astronauts and cosmonauts used towels to dry his head and equipment.

After he was safe and dry, Parmitano told his crewmates that the water inside his helmet had tasted "really funny" and not like the water from his spacesuit's drink bag.

"To him, the water clearly didn't taste like normal drinking water," Cassidy reported to Mission Control.

A look at Parmitano's water-cooled undergarment revealed that some of its tubing was dry.

Cassidy and Parmitano were only able to finish the first of two planned tasks before the spacewalk was curtailed.

Cassidy installed a second set of jumper cables that will provide redundancy should the space station suffer power failures. Parmitano, meanwhile, was working to run cables between the U.S. and Russian segments of the outpost in preparation for the arrival of a new Russian multipurpose laboratory module (MLM) slated for later this year.

Had their spacewalk been able to continue, the two flight engineers were also scheduled to replace a video camera on a Japanese experiment platform, relocate wireless TV camera equipment, troubleshoot a balky door cover over relay boxes on the space station's truss, and reconfigure the thermal insulation cover over a failed electronics box that was removed from the station's truss last year.

None of the abandoned tasks are considered urgent and they will be rescheduled for future spacewalks.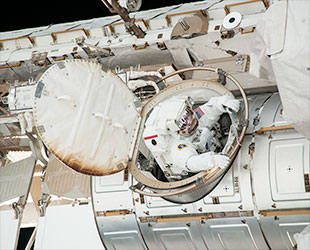 NASA astronaut Chris Cassidy, as seen emerging from the Quest airlock during a station spacewalk on July 9, 2013.
(NASA)
At just one hour and 32 minutes, Tuesday's outing ranks as the second shortest in the International Space Station's 13-year history. In 2004, NASA astronaut Michael Fincke and Russian cosmonaut Gennady Padalka, both donning Russian Orlan spacesuits, returned inside the station after only 14 minutes and 22 seconds as a result of an oxygen leak from Fincke's suit.

In 2001 and 2009, station crewmembers wearing Russian spacesuits were exposed to the vacuum of space as they worked inside the orbiting complex for 19 minutes and 12 minutes, respectively.

The next shortest extravehicular activity (EVA) was also a Russian spacewalk. Cosmonauts Vladimir Dezhurov and Mikhail Tyurin spent two hours and 46 minutes outside the ISS in December 2001.

Tuesday's spacewalk was the 171st EVA in support of the assembly and maintenance of the space station.