Glenn to compare Mercury, Shuttle in bio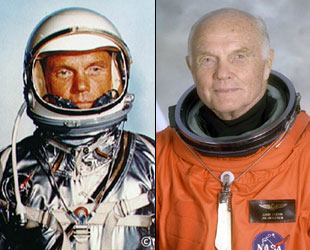 August 21, 1999 — Former Senator John Glenn, the first United States astronaut to orbit the Earth, re-captured the public's attention in October 1998 by returning to space on the shuttle Discovery. Now, in his autobiography John Glenn: A Memoir, to be released November 2, Glenn tells of the "enormous differences" between his five-hour flight on February 20, 1962 aboard Mercury and his recent nine- day mission.

Described as written in the "straightforward, unassuming style that has been his trademark," Glenn also describes "the grueling tests and preparations" for his shuttle flight.

To be released by Bantam Books, and co-written by Nick Taylor (Healing Lessons, A Necessary End), A Memoir also covers Glenn's experiences as a Marine fighter pilot, record-setting test pilot and his 24 years as a member of the U.S. Senate.

Accompanying the text are 16 pages of Glenn's personal black and white photographs.

A Memoir marks the third book Glenn has co-written. We Seven, co-authored by all the Mercury astronauts, and "P.S. I Listened To Your Heartbeat", a compilation of the letters received by Glenn after his Mercury flight (with his commentary), are now both out of print. Glenn also wrote the forward to astronaut Alan Bean's art book, Apollo: An Eyewitness Account.

John Glenn: A Memoir will be offered as a 320 page hard cover, as well as abridged and unabridged audio versions on cassette and CD.
back to News



© 2023 collectSPACE.com All rights reserved.
Questions? E-mail contact@collectspace.com