Moon voyager Aldrin joins Space Voyagers

August 21, 2000 — One of the first men to walk on the Moon will soon be inviting children to relive his adventure with all the rumble and sounds of his launch.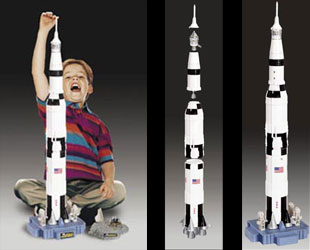 Buzz Aldrin, Apollo 11 astronaut, has joined forces with educational toy company Action Products International to produce and market their line of Space Voyagers realistic space toys. The five-year agreement, which will involve other astronauts yet to be named, began with the release of the Buzz Aldrin Signature Ultimate Saturn V Rocket.

The three foot tall replica of the spacecraft, which Aldrin calls "quite accurate" includes launch countdown and liftoff sounds along with "real feel" launch vibrations at a press of a button. "I was impressed with the high quality of their models," says Aldrin.

The Signature Series edition is replacing the previously sold Ultimate Saturn V with packaging including images of Aldrin, a biography and his reproduced autograph.

"By adding the personal story of Buzz Aldrin to the content of the product, we are providing the consumer with a point of reference they can relate to," noted Ron Kaplan, Action Products President and CEO, in an interview with collectSPACE. "Now our story has a hero."

"The experience of the Saturn V will be enhanced," said Kaplan. "Not only does the toy allow kids to re-enact a trip to the moon but we will provide opportunities for them to find out what space travel is like directly from those who have been there."

Action Products will turn to the web to enable interaction with the space explorers. Aldrin and his fellow astronauts will participate in online chats, personal appearances and answer e-mail through the company's website.

Educational and kid-cool

Unlike other manufacturers, Action Products specializes in presenting alternatives to the violence kids encounter on television, in the movies, and in video games. Space Voyagers brand of toys, one of five held by the company is marketed by Action as being both educational and as "kid-cool."

"The past, present and future of space travel is the most exciting real-life adventure of all," says Kaplan.

The company's previous offerings have been released in four categories: miniature spacecraft and action figures (Mini Voyagers), standard-sized, 4-inch action figures, collectible keychains (Keyclips) and detailed models and figures (Collector's Series). Each set has included toy versions of the space shuttle, Saturn V and different era spacesuited astronauts.

"We select [toys] based on their historical significance, their familiarity with kids today, and their 'cool-factor,'" commented Randall Luttenberg, Action Products' Chief Creative Officer.

Common to all Space Voyagers' sets is an attention to detail and accuracy. While production costs are not often a factor, playability is a concern.

"Of course there are trade-offs," says Luttenberg, "these are toys, not model kits, and they are intended to stand up to kid's play. In the case of the Ultimate Saturn V, we needed to make some allowances for safety, durability and to make the number of pieces manageable. Where we do not compromise is with the accuracy of the story we present... there are no phasers, no aliens, no secret criminal organizations."

In addition to staying true to history, Luttenberg shared how every resource is used to guarantee each miniature spacecraft is presented realistically.

"In order to ensure [the Saturn V's] accuracy we sought out every reference we could possibly find, including original press briefings from the 1960's. The scratch-built modeling community has also assembled extremely impressive documentation and this was an important resource in those cases where original documentation was hard to find," Luttenberg said.

The future of Space Voyagers

With a history of creating space-related toys since 1977 (Space Voyagers was launched in 1997) Action Products Marketing Manager Greg Zesinger says consumers have embraced their versions of the space shuttle and Saturn V as the most popular.

Unable to share what the partnership with Aldrin will next bring, Zesinger it will be "heavily influenced by current events in the space program such as the Mars missions and construction of the International Space Station."

Aldrin has some ideas of his own.

"I would like to see a miniature version of one of my ideas, the 'Mars Cycler,' a cycling spacecraft between Earth and Mars which has Earth interceptors and Mars landers," described Aldrin.

"Of course, with the announcement of our partnership with Dr. Aldrin," Zesinger adds, "we fully expect the Ultimate Saturn V to take the Space Voyagers brand to even greater heights!"
back to News



© 2023 collectSPACE.com All rights reserved.
Questions? E-mail contact@collectspace.com