August 11, 2014
— Scott Kelly is 7 months and 17 days from becoming the first NASA astronaut to spend a year in space.

Well, maybe not a full year, at least based on the currently published schedules.

Kelly and Russian cosmonaut Mikhail "Misha" Kornienko are slated to launch to the International Space Station on March 28, 2015 for the first yearlong expedition aboard the orbiting laboratory. They are scheduled to return to Earth 346 days later – 19 days shy of an entire year – on March 7, 2016.

"I made a deal with the station program, they'll extend that to make it a whole year, but that doesn't show up on paper yet," Kelly told collectSPACE.com in a recent interview. "It better be [a full year], although I could be regretting that when March 7 rolls around and I think I could be home."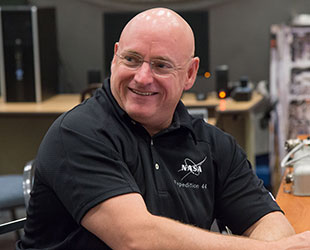 NASA astronaut Scott Kelly is pictured during a training session at NASA's Johnson Space Center in Houston, Texas.
(NASA)
Full year or not, Kelly and Kornienko's expedition will set the record for the space station's longest mission in its 15-year history. Most crew members spend about five and a half months working and living on the outpost.

Only four people, all of them cosmonauts, have remained in orbit longer than a year during stays onboard the former Russian Mir space station.

During their 12 months in space, Kelly and Kornienko will be joined by a rotating contingent of four other astronauts and cosmonauts to conduct hundreds of experiments and to gather data to better prepare future crews for missions beyond Earth orbit, such as to Mars.

First though, Kelly and Kornienko have had to be prepare to spend a year off the planet. The two were appointed to the long-duration flight in 2012 and have been in training for the expedition since. It has only been recently though, that Kelly has started to notice the days ticking down to their launch.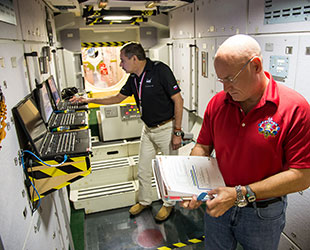 NASA astronaut Scott Kelly (foreground) and Russian cosmonaut Mikhail Kornienko participate in an emergency scenario training session in an International Space Station mock-up/trainer in the Space Vehicle Mockup Facility at Johnson Space Center.
(NASA)
"As far the flight coming up quickly, I think it's just starting to feel that way for me," he told collectSPACE.com. "The backup [crew] launch flow is August through September, which culminates with the Expedition 41 launch because I am [flight engineer Butch Wilmore's] backup."

"Then I am back in Houston for the month of October, in Russia in November, Japan in December, January back in Houston, February in Russia and then — space. So even though it is pretty much seven months away, it's going to happen pretty quick," Kelly observed.

At the 12 month mark in March, Kelly began a countdown with daily Twitter updates. Those posts have dropped off a bit since as the pace of preparations have picked up, and as Kelly's given thought to the effect of counting down, or up.

"I do recognize there is a risk to counting down — well, in this case, counting down isn't that risky, but counting the number of days until the end of the flight, or I was thinking of counting up days — a countdown [to launch] and then a count-up — there is obviously some risk in that as it could make the time seem to go by much more slowly," he said. "Maybe I will start counting up and then quit after awhile."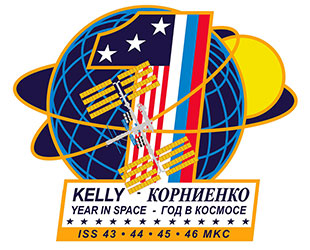 Scott Kelly collaborated with patch artists Jorge Cartes and Tim Gagnon to design the "Year in Space" mission emblem.
(NASA)
There are other ways Kelly might mark the year in space. He joked about not shaving for the length of his stay, but quickly abandoned that idea.

"All joking aside, I have considered taking pictures of the same spots on the Earth, as best as possible, to capture the changes over the period of a year. You know, on each continent, one spot," he explained.

Both he and Kornienko will visually mark the year another way, too. Borrowing a long-standing spaceflight tradition, the two now have their own commemorative mission patch to mark their yearlong journey.

"There is a big number one and it says 'Year in Space' and in Russian and English are Misha's and my names," Kelly said, describing the recently revealed emblem. "There is a picture of the space station over the Earth with the station going around the Earth and then the Earth going around the sun."