Tour highlights JSC past, future
NASA "JSC Features" Article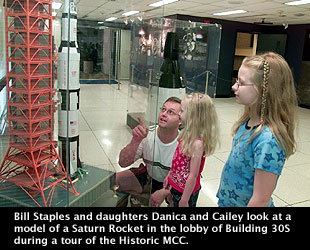 August 11, 2003 — Space Center Houston has had a successful facelift.

This facelift didn't involve plastic surgery - it updated the tram tours that bring more than a half-million visitors to Johnson Space Center every year.

"The tour hadn't changed in 10 years," said Anson Brantley, Operations Manager at Space Center Houston (SCH). "The same spiel on the trams, the same look in the buildings."

But the tour overhaul that Brantley recently spearheaded has changed all that.

Ears and eyes: audio and visual upgrades

For one thing, the "spiel" that visitors listen to as they ride open-air trams around JSC - once an anonymous voice narrating facts about the Center - has been revamped to include sound effects, inspiring music, and voices that visitors and employees will recognize.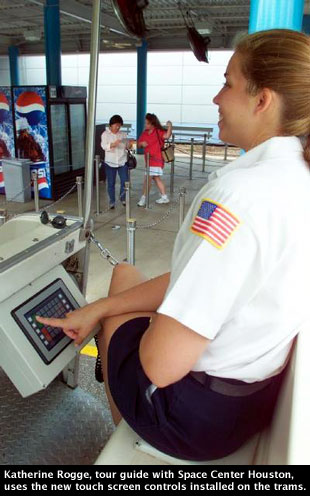 The new tram tour soundtrack includes audio clips from JSC Director Jefferson D. Howell, Jr., former flight director Gene Kranz, Astronauts Shannon Lucid, Gene Cernan, Alan Bean and many others. It also includes a segment of the "moon speech" given by President John F. Kennedy at Rice Stadium, as well as stirring background music and launch sound effects that complete the audio atmosphere.

The equipment on the trams has also been upgraded - SCH tour guides now use touch-screen controls to operate the new audio system.

The improvements were made to "hold the interest" of SCH's visitors, Brantley said.

"Over 35 percent of our visitors are repeat guests," he said. "We see, in the attractions business, that guests have higher expectations every year. This helps meet their demands to see more interesting things and to enliven things."

The soundtrack isn't the only change to the tram tour. The tour's visuals have also been given an update courtesy of the JSC and SCH Exhibits teams.

"We've been working with Anson on improving the look and feel of the tram visitor lobby in Building 30," said Louis Parker, JSC Exhibits Manager. Other visual improvements include new graphics and photographs illustrating human spaceflight programs in the Historic Mission Control Center's viewing room, and soon-to-be updated photos in the Building 9 lobby.

"We've brought the old MCC back to life," Brantley said. The center now boasts a fresh coat of paint and several high-fidelity Apollo models, and the viewing screens at the front of the room are illuminated with Apollo-era images such as tracking maps. "We really wanted to make it more realistic, to bring you back to that time."

Brand-new tour features

The extensive overhaul of the SCH tours did not stop with improving the audio and aesthetics of the tram tours. Two all-new features were added to the basic tour, and a special VIP-style tour is now offered as well.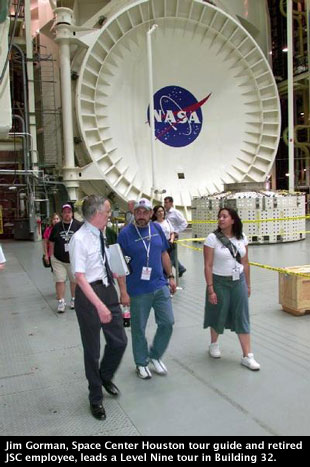 One new element of the tram tour is a recognition and explanation of the memorial grove near Building 110. The soundtrack explains that the trees there were planted in honor of fallen astronauts - including those from Apollo 1, Challenger and now Columbia - as well as other NASA dignitaries. A clip from the speech that President George W. Bush made at JSC's memorial service is played, followed by a moment of silence.

The other new feature is called Hangar X, and showcases the history of NASA's X-planes. X-planes, meaning "experimental," have an impressive pedigree that runs from the X-1 - the plane used by Chuck Yeager to break the sound barrier in 1947 - to the X-38 and other futuristic vehicles.

Hangar X is housed in the former X-38 building at JSC and teaches visitors how X-plane research will benefit future endeavors. Three X-38s are on display, along with models and graphics of other vehicles and a video about X-plane aircraft.

These new features are all part of the standard JSC tram tour. However, if that tour does not satisfy visitors' appetites for all things NASA, they can opt for the new "Level Nine Tour" offered by SCH. The Level Nine Tour goes deeper "behind the scenes" at JSC, allowing guests to visit places such as the Robotics Laboratory in Building 9, the Historic Mission Control Center and the Neutral Buoyancy Lab's observation catwalk.

Only 12 Level Nine Tour slots are available each day, and must be reserved at least one day in advance. The tour lasts four hours and includes lunch at the Building 3 cafeteria.

Brantley and Parker did not work alone to bring about all of these changes and improvements. It took exhibits experts, photographers, facility managers, communicators and other teams to pull it all together. The result is a revamped experience that should inspire visitors and give them a sense of space program history.

"Our goal was to bring you through a journey in time," said Brantley, "to show you the triumphs and tragedies of humans' commitment to be in space. That inspires people."
back to News



© 2023 collectSPACE.com All rights reserved.
Questions? E-mail contact@collectspace.com