Flight Office issues Apollo medallion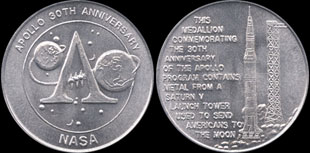 July 20, 1999 — NASA's Space Flight Awareness Office issued today a medallion honoring the 30th anniversary of Apollo 11. Given to guests attending a breakfast honoring the astronauts at the National Air and Space Museum, the coin was minted in part with metal from a Saturn V rocket launch tower.

The front of the medal is struck with the Apollo Program logo as well as the words, "Apollo 30th Anniversary". The reverse is inscribed, "This medallion commemorating the 30th anniversary of the Apollo Program contains metal from a Saturn V launch tower used to send Americans to the Moon."

The medallion is the most recent in a series that includes an earlier Apollo 11 coin that was released following the July 1969 mission. Others have commemorated Skylab, STS-1, and STS-71, the first Shuttle-Mir station docking.
back to News



© 2023 collectSPACE.com All rights reserved.
Questions? E-mail contact@collectspace.com