Apollo 11 crew awarded aviation honor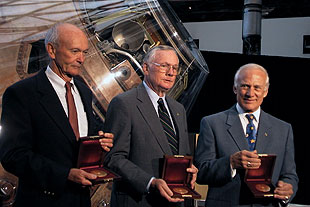 July 20, 1999 — Apollo 11 crewmates Neil Armstrong, Buzz Aldrin, and Michael Collins reunited at the National Air and Space Museum today to commemorate the 30th anniversary of their historic flight and to each receive the prestigous Langley Gold Medal for aviation.

Presenting the awards, U.S. Vice President Albert Gore reflected, "with your first step onto the Sea of Tranquillity, you brought tranquillity to us here at home."

First awarded to Wilbur and Orville Wright, the Langley Gold Medal was named after American aviation pioneer Samuel P. Langley. Prior to today's presentation, only 22 individuals have been given the honor, including aviator Charles Lindbergh, rocket scientists Robert Goddard and Wernher von Braun, astronaut Alan Shepard, and NASA Adminstrator James Webb.
back to News



© 2023 collectSPACE.com All rights reserved.
Questions? E-mail contact@collectspace.com