Hallmark releases final space ornament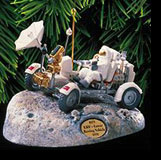 July 22, 1999 — Hallmark Gold Crown retailers have released the fourth and final piece in their Keepsake Ornament series, "Journeys Into Space."

The ornament depicts the Apollo Lunar Roving Vehicle (LRV) being driven by an astronaut over the lunar surface. The LRV flew on missions Apollo 15, 16, and 17.

Previous releases in the "Journeys" series have included Alan Shepard's Freedom 7 Mercury-Redstone (1996), John Glenn's Friendship 7 capsule (1997), and an Apollo Lunar Module (1998).

In an interview with collectSPACE, a representative for Hallmark explained why the series may have been cancelled. Ornament series are guaranteed a run of three years, after which a combination of public-response and Hallmark directors' preferences are weighed to decide the future of a ornament.

Although no definitive reason was shared, the Hallmark rep cited two other factors which could have played a role in the series cancellation.

"Journeys" series' artist Ed Seale retired from Hallmark after completing the 1999 ornaments. Seale's other series, "Stock Car Champions," was also discontinued.

In addition, Hallmark has begun to reduce the number of "Magic Ornaments," those which incorporate motion, sound, and/or light.

According to Hallmark, it would be very rare for the series to be revived after cancellation. However, ornaments supporting the theme or a new series could be released in years to come. Production has already begun on the 2000 Keepsake Ornaments.

Before starting the current series, Hallmark released two other space history-related ornaments: "The Eagle Has Landed" (1994) depicting Neil Armstrong on the surface of the Moon and "Space Shuttle" (1995), commemorating the first launch of Columbia and the first U.S. spacewalk by Edward White II.
back to News



© 2023 collectSPACE.com All rights reserved.
Questions? E-mail contact@collectspace.com