July 14, 2017
— A NASA aircraft that astronauts used to learn how to land from orbit has touched down on display at the Alabama home of U.S. Space Camp, in the shadow of a winged orbiter like the type it emulated in flight.

NASA 945, one of four Grumman Gulfstream II business jets that were modified to become Shuttle Training Aircraft (STA), was dedicated Thursday (July 13) in Shuttle Park at the U.S. Space & Rocket Center in Huntsville. The STA is mounted behind Pathfinder, a full-scale display of a space shuttle in its launch configuration.

"The STAs were a marvelous, wondrous machine for us to fly because the first the time you landed a space shuttle, you felt like you had done it hundreds of times — because indeed you had," said Hoot Gibson, a former space shuttle commander who flew on NASA 945 "a couple of thousand times," speaking at Thursday's ribbon cutting. "This is such a wonderful addition to Space Camp for us to have an STA here."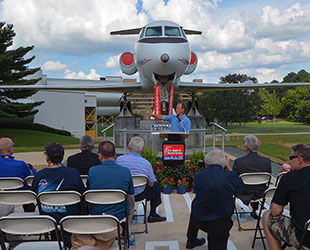 Veteran space shuttle commander Robert "Hoot" Gibson speaks at the dedication ceremony for NASA 945, a Shuttle Training Aircraft, at the U.S. Space & Rocket Center on July 13, 2017.
(collectSPACE)
The STA was configured to perform in flight as the shuttle did during its final minutes descending to the ground, and the left half of its cockpit controls were replaced with the same instruments found on the orbiter's flight deck. Shuttle commanders and pilots would fly hundreds of approaches in the STA leading up to their launch.

"We would take it up to 35,000 feet, put it into simulation mode, spool it up in reverse and we would fly the approach to simulated touch down," described Gibson. "NASA 945 is not sitting [on its mount] very high really. To get shuttle eye height, to have our eyes at the same height that the space shuttle is when it touched down, the main gear of the STA would be 26 feet off the ground."

"You didn't touch your wheels down because you'd be 20 feet underground if you were in a real space shuttle. So, the wheels didn't touch down, but we'd get a green light on the main panel [that indicated] main gear touchdown of the space shuttle, and we'd [still] be 26 feet in the air doing it," he explained.

In addition to keeping the main gear down, the Gulfstream II's normal thrust reverser was replaced.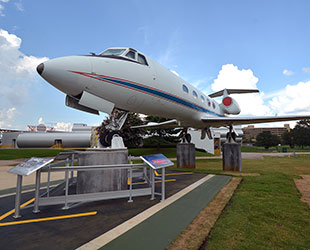 NASA 945, one of four NASA Shuttle Training Aircraft (STA), is now on display at the U.S. Space & Rocket Center.
(collectSPACE)
"In order to get the amount of drag that a big, ugly, square, fat shuttle has, as opposed to this sleek-looking Grumman Gulfstream II, we had to go as high as 95 percent power in reverse in flight," stated Gibson. "We had to put a different type of thrust reverser on the [STA's] engines because the clam shell would be ripped off in flight if you opened it up."

NASA considered the STA a critical tool for training pilots. The orbiter, which was sometimes referred to as a "flying brick," touched down from space as an unpowered glider, and so had just one go at landing.

"The STA flew exactly the way a space shuttle did," said Gibson. "Everybody came back from their first mission as mission commander, to be the one to land the shuttle, and he or she would say 'don't change anything, it flies just like the STA.'"

When the 30-year shuttle program ended in 2011, NASA no longer needed the STA fleet. In 2012, the space agency donated NASA 945 (or N945NA, its full tail number) to the Rocket Center, flying it to Birmingham to wait its delivery to Huntsville.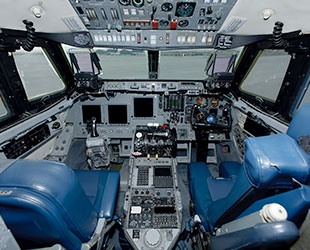 Cockpit of a Shuttle Training Aircraft, which contains both orbiter and standard GII flight controls.
(NASA Armstrong/Tony Landis)
In March 2014, the Space Camp Alumni Association led a crowdfunding campaign to bring the STA to Shuttle Park. More than 300 individuals and businesses raised $70,000, enabling work on NASA 945's exhibit to begin.

"The campaign to bring this historic piece of the program to the nexus of Space Camp, right here in Shuttle Park, is a true testament to the strength of the alumni community," said Ben Chandler, chair of the alumni association's board. "When called into action, the alumni mobilized and made this project happen."

Support stanchions and a concrete runway were put into place, and Gulfstream came on board the project to help with dismantling, relocating and re-assembling the aircraft. NASA 945 was delivered by truck on March 2 of this year, and, after having its wings and tail section reattached, the STA took flight one last time, as cranes were used to hoist it onto its mounts.

"We are not quite finished," said Deborah Barnhart, CEO and executive director of the U.S. Space & Rocket Center. "We do intend to have an amphitheater under the wings, and we also want to replicate the aircraft's cockpit."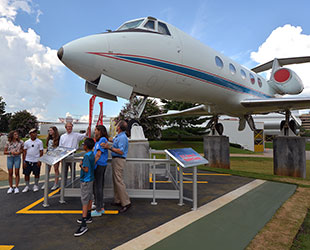 Space Camp Alumni Association chairman Ben Chandler (left) and veteran astronaut Hoot Gibson joined with Space Camp trainees to pull "Remove Before Flight" tags, dedicating the exhibit of NASA's Shuttle Training Aircraft on July 13, 2017.
(collectSPACE)
"This completes our shuttle trifecta. We have got the T-38 [supersonic training jet], which all the astronauts learned to fly. We've got the STA, which the shuttle pilots learned to fly. And of course, we have the full orbiter and stack," said Barnhart.

NASA's three other Shuttle Training Aircraft were retired to the Armstrong Flight Research Center in California (tail no. 944), the Texas Air & Space Museum in Amarillo (946) and the Evergreen Aviation & Space Museum in Oregon (947).

"We are here, we are berthed and we're about ready," said Barnhart, concluding Thursday's ceremony. "NASA, thank you so much for offering us this amazing historic artifact."