VR to bring Air and Space to life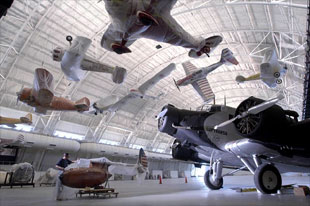 July 9, 2003 — Two immersive photography specialists are working to provide the public with an unparalled, 360 degree view of aviation and space history.

Dennis Biela of LightSpeed Media and David Palermo of WorldVR, have teamed to record the 200 aircraft and 128 space artifacts to be placed on display at the National Air and Space Museum Steven F. Udvar-Hazy Center using high resolution digital photography and Apple Computer's QuickTime VR.

For safety, security and physical limitations, those who visit the center when it opens December 15, 2003, will have varying degrees of access to the historic vehicles on display. Biela's and Palermo's Photographic Archive Project will provide views otherwise not possible.

For example, once the museum's SR-71 Blackbird is raised from the floor of the center, visitors will not be able to look inside the reconnaissance jet's cockpit. Using VR images accessible online and through kiosks to be located throughout the center, spectators will be able to tour the entire vehicle, inside and out.

To capture the museum's collection in VR, the exterior of each vehicle or artifact will be photographed in 10 degree increments, to create a complete 360-degree view. The cockpit of each craft will also photographed using multiple images blended or "stitched" together.

This detail, often referred to as "immersive technology," will allow children of all ages to view massive aircraft with ease, spinning them like toys or even taking a seat inside to look around.

Other vehicles to be imaged include the space shuttle Enterprise, the Dash 80 prototype of the Boeing 707, the B-17 Flying Fortress Swoose, the B-29 Superfortress Enola Gay, an F-4 Phantom fighter, the de Havilland Chipmunk aerobatic plane and the Air France Concorde, which landed at the Udvar-Hazy just a few weeks ago.

Donations and sponsors are welcomed, with companies such as Apple Computer, Hyatt Hotels, Nikon, and Sony already involved.
back to News



© 2023 collectSPACE.com All rights reserved.
Questions? E-mail contact@collectspace.com