Astronaut Cernan alters autograph policy

July 10, 2002 — The last man on the Moon has become the latest astronaut to stop replying to autograph requests sent to him through the mail.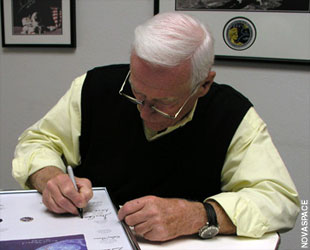 Apollo 17 commander Eugene Cernan let the change to his policy be known last week through an intermediary he has retained to reply to his mail and organize signings.

"Gene Cernan has not stopped signing, rather he has stopped taking mail requests. Since he has had a close relationship with us for years, he has asked that we handle his autograph requests," said Kim Poor, president of Novaspace Galleries.

Cernan, who also flew on Gemini 9 and Apollo 10, would previously reply directly to collectors' requests if the sender included payment to "With A Purpose", a charity fund that benefited the Kansas Cosmosphere and Space Center, the Naval Aviation Museum, Up with People, Young Astronauts, the Cernan Earth and Space Center, and other organizations that were "proven to stimulate the minds and reach the heart and spirit of young people."

If the item sent for Cernan's autograph was previously unsigned by any other astronaut, the fee was $100. Photographs and other pieces with multiple autographs on them already would be signed for $200.

Poor explained that the transition would be beneficial for both the astronaut and collectors. "As with other Apollo astronauts' mail requests, Cernan's would stack up and get months behind. Checks would go uncashed, and more mail would pour in from collectors wondering what happened to their items. It is one thing to wait for a year or more for a free signature, but since money is involved, people expect prompt service."

"This should actually be better for you, as we can coordinate the autographs in a more efficient and timely manner, with no change in basic price. Captain Cernan, as with most Apollo astronauts, keeps a hectic schedule, and would like to reserve time at home for his family and some quiet relaxation at his ranch in Kerrville."

Cernan will make an exception to his new policy to sign his 1999 book The Last Man on the Moon: Astronaut Eugene Cernan and America's Race in Space".

"He will still honor free autograph requests for books sent to him," noted Poor, "provided they are personalized and one per person. Of course you should provide return shipping. Don't send money, stamps, or PRCs, make it easy on him. Send a pre-paid container he can just drop in the mail."

Novaspace plans to host Cernan (and possibly his Apollo 17 crewmate Harrison "Jack" Schmitt) for a signing at their Tucson, Arizona gallery in November. In the meantime, they have begun processing the requests already received.

"We have been sent [Cernan's] unopened mail, and will return goods and money soon."
back to News



© 2018 collectSPACE.com All rights reserved.
Questions? E-mail contact@collectspace.com