Cosmosphere to sell LB7 film segments
Article index:
---

Collectors debate quality of LB7 lucites

August 17, 2001 — The Kansas Cosmosphere's Liberty Bell 7 pilot film-embedded acrylics have begun arriving at collectors' homes today, collectSPACE readers reported.

First impressions have been mixed.

"The care that seemed to be taken in the first series was very much lacking in the new one that I bought" said Dan Lorraine on the collectSPACE message boards.

Gene "Hawkman" disagreed. "I like the yesterday/today feel of the pictures... I think the Cosmosphere did a nice job on this acrylic."

According to Karen Siebert, Marketing Director for the Kansas Cosmosphere and Space Center, approximately 150 acrylics had sold as of last week.

Have you received your acrylic? What do you think?


---

First look: Liberty Bell 7 film acrylic

July 21, 2001 — collectSPACE was sent the first picture of the new acrylics, courtesy Karen Siebert, Marketing Director for the Kansas Cosmosphere and Space Center: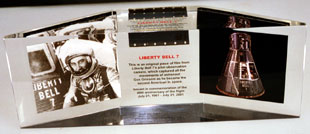 (Click on the image to enlarge)
---

New film acrylics to feature Grissom pic

July 13, 2001 — The Kansas Cosmosphere announced today that each of their new Liberty Bell 7 film acrylics will feature an image of astronaut Virgil "Gus" Grissom "suited up and sitting next to the spacecraft in 1961" and a picture of the restored Mercury spacecraft as well as descriptive text. The custom lucites will measure 8 3/4" wide by 3" tall.

Pictures are expected to be available late next week.

The 1,000 filmstrip acrylics will be accompanied by a certificate of authenticity signed by Cosmosphere President and CEO Max Ary and Gus Grissom's brother, Lowell.

Due to ship August 15, pre-orders for the acrylics can be placed now through the Cosmosphere's Cargo Bay gift store (800-397-0300 ext. 307). Collectors eligible for the $50 savings (see our June 22 update) are limited to five acrylics at the reduced price.


---

Cosmosphere VP dicusses film lucites

June 22, 2001 — Jeff Ollenburger, Vice President of Marketing and Programs for the Kansas Cosmosphere, contacted collectSPACE today to provide additional details about the upcoming release of the Liberty Bell 7 film-embedded acrylics.

In addition to confirming the release date as July 21, 2001, Ollenburger revealed the Cosmosphere would soon be contacting those who previously purchased the original acrylics to extend a special discount and an opportunity to place an advanced order.

"We have a database of previous customers," explained Ollenburger. "We will begin contacting them over the next couple of weeks."

The new acrylics — which will be serialized, limited to a run of 1000, and look "quite a bit different" than the previous pieces sold — will sell for $250 each. However, those who previously purchased an LB7 acrylic will be offered a $50.00 savings.

The acrylics display two-inch cut segments of 16mm film from the Liberty Bell 7's pilot observation camera.


---

Cosmosphere to sell LB7 film segments

June 19, 2001 — Following last year's sale of hardware saved from the Liberty Bell 7, the Kansas Cosmosphere has announced it is now preparing to sell a new round of acrylics, displaying segments of exposed film recovered from the Mercury spacecraft's cameras.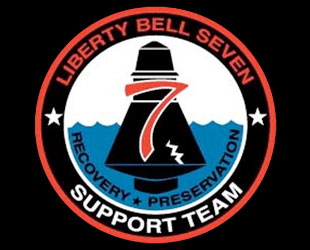 "We hope to have the acrylics ready to go by the 40th anniversary of Grissom's launch," the museum's curator Jim Remar told the Associated Press on Monday.

The Lucite displays will each include a two-inch segment of 16mm film removed from the floor of the capsule after its recovery on July 20, 1999. Originally encased in one of two on-board cameras, 38 years of exposure to ocean water effectively disolved the imaging equipment.

"Much of this film has deteriorated and broken up into hundreds of small two to six inch pieces," Cosmosphere president Max Ary wrote in a letter to collectSPACE. "These pieces will never have much value for a museum exhibit."

Ary wrote that any introduction of new acrylics would depend on the public's interest. Recent figures released by the museum support that demand has been high.

In an interview with the Associated Press, Kent Shank, Vice President of Operations and Finance for the Cosmosphere, said that the remaining 13 original nut and bolt acrylics were recently sold.

In total, the Liberty Bell 7 fragments raised approximately $140,000 for the Hutchinson, Kansas museum.


back to News



© 2018 collectSPACE.com All rights reserved.
Questions? E-mail contact@collectspace.com