June 15, 2018
— NASA's most experienced astronaut has hung up her space boots.

Peggy Whitson, who holds the record for the most time in space by an American, resigned from the space agency on Friday (June 15).

"It's been the greatest honor to live out my lifelong dream of being a NASA astronaut," Whitson posted on Twitter on Friday. "Thank you to the 'NASA Village' and all who have supported me along the way. As I reminisce on my many treasured memories, it's safe to say my journey at NASA has been out of this world!"

An astronaut since May 1996, Whitson first came to NASA in 1986 as a National Research Council resident research associate at the Johnson Space Center in Houston, Texas. She served in a number of scientific roles, including project scientist for the Shuttle-Mir program and the co-chair of the U.S.-Russian mission science working group, before being chosen with NASA's largest class of astronaut candidates, nicknamed "The Sardines."

"Peggy is a classmate and a friend, and she will be deeply missed," said Pat Forrester, chief of the Astronaut Office at Johnson. "Along with her record-setting career, she leaves behind a legacy of her passion for space."

As an astronaut, Whitson flew three long-duration missions to the International Space Station, setting records on each. She made her first flight in 2002 as part of Expedition 5, during which she became NASA's first science officer. In 2008, Whitson returned to the orbiting laboratory as part of Expedition 16 and became the first woman to command a space station.

During her most recent mission, spanning Expeditions 50, 51 and 52 from November 2016 through September 2017, Whitson became the first woman to command the station twice. She also claimed the title for most spacewalks by a woman – 10 spacewalks totaling 60 hours and 21 minutes – and set the record for most cumulative time in space by an American astronaut at 665 days.

Whitson's duration record also established her as the most experienced woman space explorer worldwide.

"She set the highest standards for human spaceflight ops, as well as being an outstanding role model for women and men in America and across the globe," Brian Kelly, director of Flight Operations at Johnson Space Center, said.

When not flying in space, Whitson served as NASA's 13th chief of the Astronaut Office from 2009 to 2012, becoming both the first woman to hold the position and the first non-military astronaut corps chief.

Whitson's departure from NASA came one day before the 55th anniversary of the launch of the first woman in space, Soviet-era cosmonaut Valentina Tereshkova, in June 1963. Whitson followed 39 years later becoming the 38th woman to enter orbit. Twenty-three more woman have flown since Whitson made her first flight for total of 61.

"Peggy Whitson is a testament to the American spirit," said NASA Administrator Jim Bridenstine in a statement issued about Whitson's retirement. "Her determination, strength of mind, character and dedication to science, exploration and discovery are an inspiration to NASA and America."

"We owe her a great debt for her service and she will be missed," said Bridenstine. "We thank her for her service to our agency and country."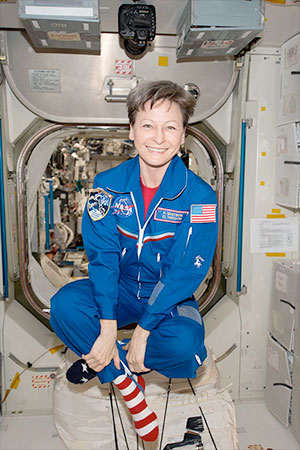 Peggy Whitson, seen sporting red, white and blue socks on the International Space Station in 2017, left NASA on June 15, 2018, after 665 days in space and 22 years as an astronaut. (NASA)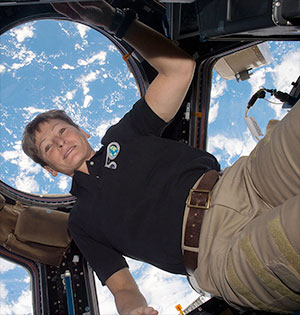 Astronaut Peggy Whitson floats in the Cupola on the International Space Station, backdropped by Earth in December 2016. (NASA)